You know he'll be
betting it all
.
The final presidential debate of the 2016 campaign here Wednesday night is shaping up to be the last substantial opportunity for Donald Trump to fundamentally alter a race that is breaking demonstrably in favor of Hillary Clinton.

A ream of battleground state polls released three weeks from Election Day is showing Clinton as a sturdy front-runner with consistent leads and an array of pathways to 270 electoral votes. Trump, on the other hand, is sounding increasingly morose, claiming he no longer trusts the polling he heralded for so many months and blaming a likely loss on a "rigged system."
Yeah yeah, boo fucking hoo.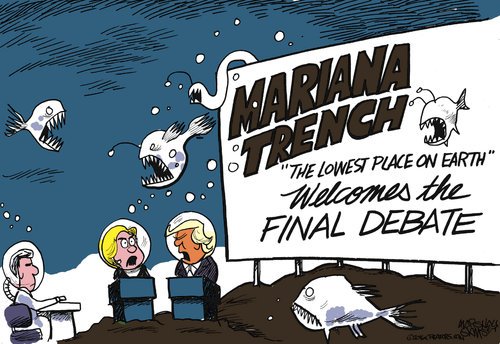 The final presidential debate is (tonight) at 9 p.m. It's the last chance either candidate will have to make their closing argument before tens of millions of voters.

It follows yet another unprecedented week in the campaign, in which Donald Trump has repeatedly questioned the legitimacy of the election, predicting that it will be stolen from him through media bias and massive voter fraud.

Hillary Clinton has a lead in the polls nationally and her battleground map of opportunities appears to be growing. The Clinton campaign is even talking about making an aggressive play for Arizona.
Here are 4 things to watch for as the two candidates meet in Las Vegas.
1. Will Trump go high or low (take a wild guess);
2. Will Trump commit to accepting the results of the election (and stop fomenting revolution)?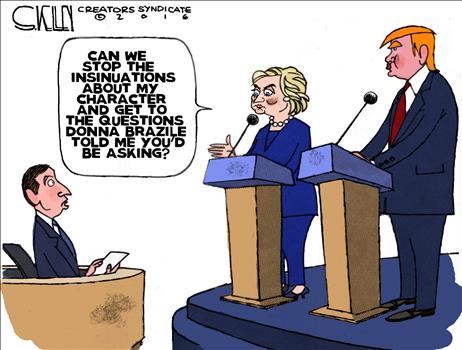 3. How does Clinton answer the questions revealed in the Wiklieaked emails (about her campaign's obnoxious pandering to Lloyd Blankfein to petty dismissal of the concerns of 'radical environmentalists'), and ...
4. Will Clinton make a positive case for herself (one that is believable, not full of the usual political tropes and promises she has no intention of keeping)?
Her top strategist, Joel Benenson, wrote to other campaign strategists, "Do we have any sense from her what she believes or wants her core message to be?"
Watch the Twitter feed to the top right if you can't stand to watch it live.
Ted Rall
, as he has from the beginning to the end of this cycle, says it best.
Whether you support or oppose her, there's no question that the one thing she doesn't represent is love. The bombs that she voted to drop on the people of Iraq are not full of love. When she made jokes about watching the deposed dictator of Libya being (sodomized with a) bayonet, she didn't seem to be oozing with love. So what the heck are they talking about?
Politico has five more
(some are the same as those above) things to watch for, if you happen to have strengthened your immune system enough to be watching. I say let's get this over with and get on to the voting. How about you?