Trump and Biden meet tonight in Cleveland for their first of three debates -- a socially distanced affair in which the candidates won't shake hands. Fox News host Chris Wallace is the moderator.

The audience, at about 70, will be limited compared with previous debates, and everyone attending the event at Case Western Reserve University will undergo testing for Covid-19 and follow other health safety protocols.

The debate is set for 9 p.m. Eastern time, and will last 90 minutes without any commercial breaks. The topics for the debate are "The Trump and Biden Records," "The Supreme Court," "Covid-19," "The Economy," "Race and Violence in our Cities" and "The Integrity of the Election," according to the Commission on Presidential Debates.
That Trump is not rehearsing is a strong hint about his strategy.
Efforts to focus the preparation-averse Trump on the upcoming debate have occurred in sporadic bursts, including one 30-minute session last weekend. This past Sunday they resumed with a short question-and-answer period utilizing the flashcards campaign advisers prepared to try and hone what have so far been unwieldy attempts to define Democratic rival Joe Biden. Trump did less than two hours of prep total, a person familiar told CNN.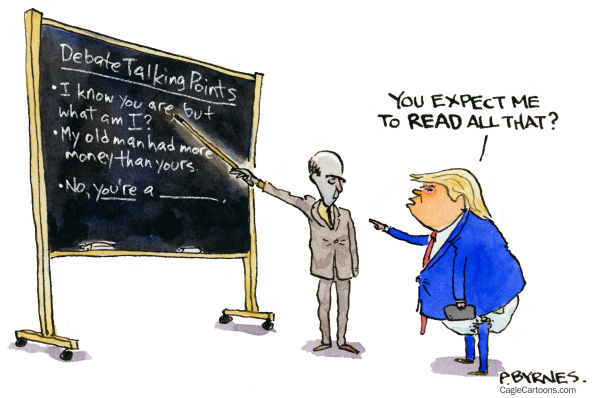 (Trump) has expressed a desire to get under Biden's skin by waging brutal personal attacks against members of his family, including his son Hunter and brandishing questions about Biden's past -- from old plagiarism incidents to more recent allegations of sexual misconduct -- that he hopes will rattle the former vice president. He has already baselessly accused Biden of taking performance-enhancing drugs ahead of the debate and some aides expect him to raise it during the event itself.
This might work, since Biden has demonstrated a severe irritation to these questions.
Democrat presidential nominee @JoeBiden refuses to respond to a question about the alleged conflict-of-interest between Hunter Biden's overseas work while he was in charge of Ukraine policy as VP.

More info: https://t.co/b1g5fC6ZrD pic.twitter.com/1K6emepFdD

— KUSI News (@KUSINews) September 23, 2020
So there's one thing we can count on ...
Showdown: Trump-Biden debate likely to be nasty https://t.co/008PMbagMo pic.twitter.com/7TIieb69YO

— The Hill (@thehill) September 29, 2020
"I will be strongly demanding a Drug Test of Sleepy Joe Biden prior to, or after, the Debate on Tuesday night. Naturally, I will agree to take one also," Trump wrote. "His Debate performances have been record setting UNEVEN, to put it mildly. Only drugs could have caused this discrepancy???"

[...]

"Vice President Biden intends to deliver his debate answers in words. If the president thinks his best case is made in urine he can have at it," said Kate Bedingfield, Biden's deputy campaign manager. "We'd expect nothing less from Donald Trump, who pissed away the chance to protect the lives of 200K Americans when he didn't make a plan to stop COVID-19."
Sounds a little golden shower-y. I'll be watching baseball (and following the debate on Twitter).