There don't seem to be any surprises ... if you don't count Hillary's added condition of releasing transcripts of her Wall Street speeches '
if the Republicans do
' a surprise.
Is it really any surprise so many people deem her untrustworthy?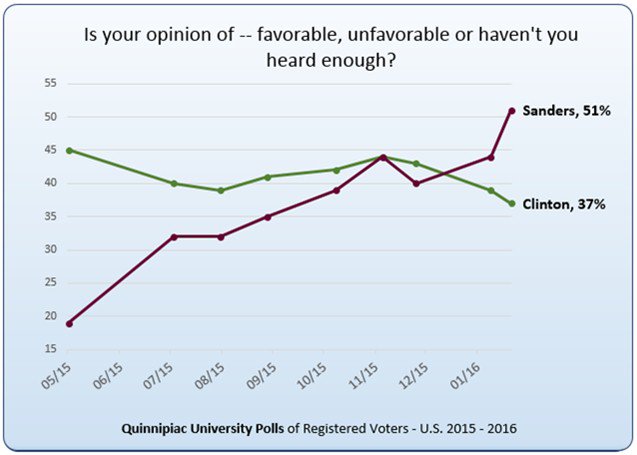 Democrats like Hillary (well, at least Democrats over the age of 50 like her), but that's pretty much it. Outside of AARP-eligible blue partisans, Hillary is strongly disliked and disbelieved.
Even Ted Cruz scores better
. Let's establish that she can win the nomination with the solid support of middle-aged and senior Democrats, but that is not a demographic that can -- all by itself -- take the White House.
The prevailing sentiment in 2016 is fairly clear: turnout is skewing downward, and the majority of Republican -- and nearly 50% of Democratic -- voters and caucus-goers are
choosing the anti-establishment candidate
. The anti-insider vote is showing up in
far
larger numbers than the status quo, incrementalist caucus.
So what are Democrats going to do? Run the ultimate insider establishment figure against the ultimate anti-establishment candidate. Clinton owns all the baggage that the ruling class is carrying in this cycle's zeitgeist.
Seems very dangerous
.
What happens if the judge in her e-mail investigation
starts ordering subpoenas
?
A federal judge ruled on Tuesday that U.S. State Department officials and aides to Hillary Clinton should be questioned under oath about whether the former secretary of state's use of a private email system was an effort to skirt open records laws.

The ruling by U.S. District Judge Emmet Sullivan is likely to add to the uncertainty hovering over Clinton, the front-runner for the Democratic nomination for the November U.S. presidential election, about the legal consequences of her decision to exclusively use a private email server in her New York home for her government work.
More from CNN
. For the record, that judge was
appointed by Bill Clinton
. Hillary could be severely damaged goods if things keep going south for her on the e-mail matter.
Are these personal attacks or are they factual observations? Far too many Clinton supporters believe the former, in fact take them on as
personal attacks to themselves
. So they respond
with shit pulled out of their ass
. Voter turnout --
as referenced
a couple of days ago -- is a universal Democratic problem.
Charles
and the
Chronic
have more on lagging voter participation.
Update
: If you'd rather believe that limp Democratic voter turnout is not going to be a problem,
Jeff Stein at Vox
is there for you with the comforter.
-- Trump sails in Nevada, Cruz and Rubio battle to a draw over second place. The spin is that's a loss for
both
of
them
. Duh.
The Republicans are
streaming into town
for tomorrow night's debate. Hide the children.
Much of the Republican presidential field is set to appear in the Bayou City on Wednesday, ahead of their debate the following day at the University of Houston.
Texas Sen. Ted Cruz will hold a 1 p.m. rally at Mach Industrial Group, in the 6100 block of Fulton.
Wednesday evening, Cruz and retired neurosurgeon Ben Carson are scheduled to speak at the Harris County Republican Party's Lincoln-Reagan dinner, which Gov. Greg Abbott also is expected to attend.
The reception at the Bayou City Event Center in southwest Houston is set to begin at 6 p.m.
Two hours later, a candidate town hall with Megyn Kelly, filmed in Houston, is scheduled to air on Fox News. Cruz, Carson, Florida Sen. Marco Rubio and Ohio Gov. John Kasich have confirmed their participation, though real estate mogul Donald Trump will not be joining, according to CNN.
Rubio also has organized a 4:30 p.m. rally at Houston Marriott South, near Hobby Airport.
I have a media credential for the set-to Thursday evening and an invitation to Chris Cuomo's party at an undisclosed location. Cuomo, for the record,
is a jackass
. He's setting the stage for a Cabinet appointment, or for his
brother's run for president in 2020
... when Clinton loses in November.
That won't stop me from
eating his food, drinking his whiskey, and screwing his women
(the latter only figuratively speaking).