Trust me on this
, Donald. He's just as big a bully as you are and he's got the mission-from-God stamp of approval to show for it. Jeebus Christ on a Christmas tree crutch, what a pair of wads.
They're your co-leaders for the GOP nod after today, though, with the media piling back on the Trump bandwagon for ratings again, including those sad sacks at MSNBC. That network's political coverage has been an absolute disgrace so far, and that's to say nothing of their shilling for Hillary.
John Kasich -- and not Chris Christie -- may
pull an upset for second place
, according to what I'm reading. Even Jeb! may see a slight
erection
resurrection. And when the
Big Dog starts talking dirty
, you know that the
Clintons are mad at everybody again
.
Marco Ruboto
is
toast
. Singed, but maybe not as
Bernt as Hillary
. I've
called it
55-42 for Sanders (lowering expectations a bit) and Trump 30, Kasich 15, Cruz 13, Bush 12, Rubio 11, and Christie 10. But you can shuffle those bottom four any way you like.
Update
: read
the Vox advance
; they seem to be hitting the mark every time.
Here's your funny for today:
the same two guys who heckled Jeb!
are spotted in the camera shot behind Hilz wearing "Settle for Hillary" shirts.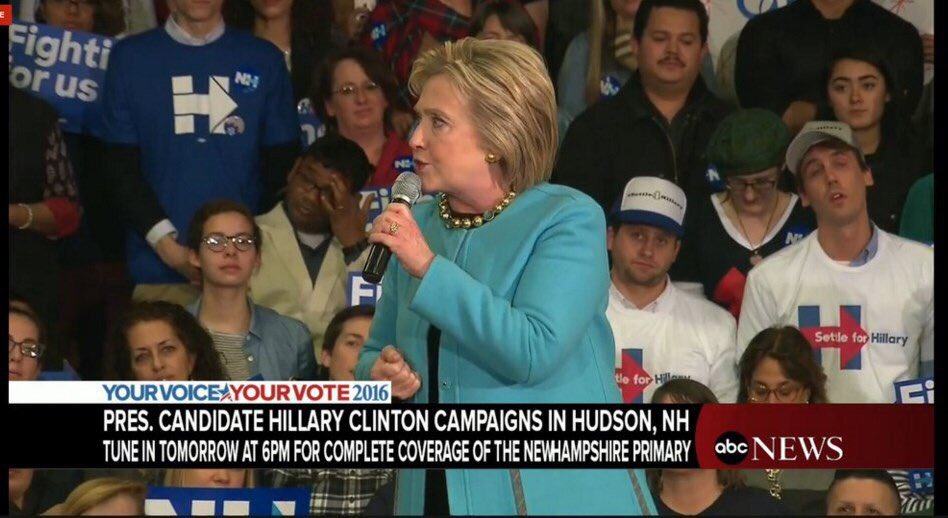 Enjoy your Fat Tuesday. I know that I am.