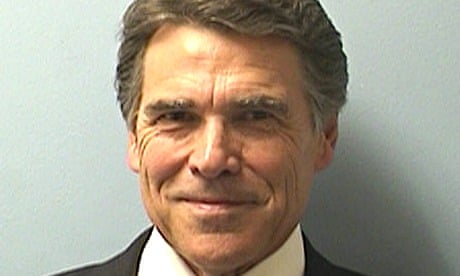 Justice purchased
once again
.
The state's highest criminal court dismissed the indictments against former Gov. Rick Perry on Wednesday morning, apparently ending the case that started with his threat to veto state funding for a local prosecutor if she refused to quit her office.
After Travis County District Attorney Rosemary Lehmberg was arrested and pleaded guilty to driving while intoxicated, Perry threatened to veto state funding for her office unless she first resigned. The Travis County DA's office was home to the state's public integrity unit, which is charged with investigating and prosecuting state corruption.
Lehmberg, who served a short jail term, refused to quit. Perry followed through on his threat to veto state funding for her office.
He was indicted by a grand jury, accused of using his office to coerce a public official. He and his lawyers argued — successfully, as it turns out — that he was acting within the powers of a governor and did nothing criminal.
Here's the only news we need more of.
Two of the courts nine judges dissented; one abstained.
Here are the nine
Texas Court of Criminal Appeals
judges. They include Chief Justice
Sharon "Killer" Keller
,
Bert Richardson
(about whom I have
written extensively
and
endorsed in 2014
)
Larry Meyers
(the only Democrat on the bench), and six other greasy no-name Republicans. Until I know for sure, I'll wager that Richardson and Meyers were the dissenters -- or the abstention. Meyers (Place 2), Place 5 (open) and Place 6 (Keasler, R incumbent) are on your November ballot. We'll be blogging a lot more over the next eight months but for now, keep in mind that this court needs fresh, uncorrupted faces.