They weren't throwing these things. There was some good verbal sparring by the two Cubans at the opera house at U of H last night, but the media was crowded into a converted gymnasium across Cullen, thus the prodigious boxing metaphors.
Seriously about the groceries, though. A couple of times I thought someone had changed the channel and we were watching the Food Network.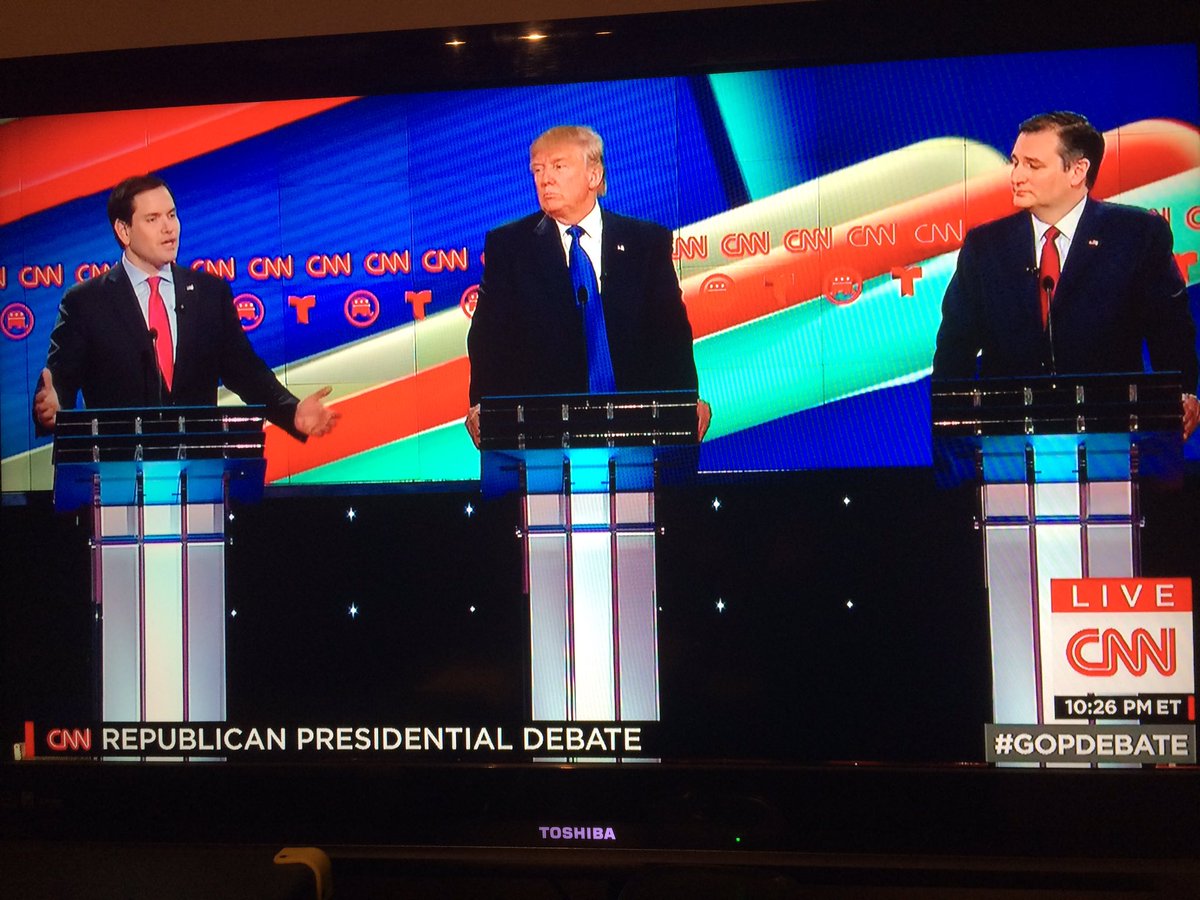 The bantamweight Rubio and the middleweight Cruz did an effective job of pummeling the Oompa Loompa-colored pinata hanging between them. Alternately screwing his face into a tight grimace and unleashing his regularly-scheduled torrent of insults, with a reeling Wolf Blitzer having lost control of the affair in the early rounds, Trump landed no counter-punches to speak of.
But
will it matter
once we see the returns roll in Tuesday night?
The tenth Republican presidential was a good show, as it always is with Donald Trump on the stage.
But for the first time in this unprecedented primary election, Trump could have used a little more winning. He left the stage in Houston, Texas, having been pushed around for most of the night.
Standing between the two U.S. senators who remain the only obstacle between him and the GOP nomination, Trump was under assault from both Sen. Marco Rubio of Florida and Sen. Ted Cruz of Texas for a large part of the two-hour spectacle.
A little more than halfway through the raucous back-and-forth, Trump was clearly tiring, and angry at being under so much duress. When the radio talk show host Hugh Hewitt directed another question at Trump, the businessman and reality TV personality snapped at him in anger.
"Every single question comes to me? I know I'm here for the ratings, but it's a little bit ridiculous," he complained.
Rubio was relentless. He pushed, prodded, provoked and badgered Trump as no one else during the campaign has been able to do on a stage. Rubio, smiling much of the time, interrupted and talked over Trump rather than standing by and waiting for him to insult or belittle him.
And Cruz followed up on many of Rubio's attacks or criticisms.
That Trump-Rubio ticket might be in a little trouble after tonight. While Rubio did do the best punching up, Cruz got under his heavily-powdered skin by
needling him
about his tax returns.
After 2012 Republican nominee Mitt Romney trolled The Donald by saying that Trump won't release his tax returns because he has something to hide – which, remember, is exactly what Democratic Senate Leader Harry Reid said about Romney four years ago – the other candidates took the baton and ran with it during the latest GOP debate Thursday night.
For instance, Sen. Ted Cruz said, "He can release past year's tax returns. He can do it tomorrow. He doesn't want to do it, because presumably there's something in there."
Sen. Marco Rubio said, "Here's a guy that inherited $200 million. If he hadn't inherited $200 million, you know where Donald Trump would be right now? … Better release your tax returns so we can see how much money he made."
And moderator Wolf Blitzer even got in on the act, starting a fracas by asking "Romney said either you're not as wealthy as you say you are, said maybe you haven't paid the kind of taxes we would expect you to pay, or you haven't been giving the money to veterans or disabled people. Are any of those accusations that he has leveled true?"
There were good scrapes on healthcare and
immigration
. Former president of Mexico Vicente Fox's
retort
that he wasn't going to pay to build "
no fucking wall
" was the best. But Rubio's best lines were used during the "if no Obamacare, then what?" exchange. (It's too far along in the cycle to just say 'repeal and replace', after all.)
This all led up to the most punishing blow Rubio landed, again refusing to let Trump get away with a superficial answer on how he would reform the U.S. health care system. Casually but with a touch of disdain, Rubio pressed Trump on what his plan for health insurance reform would be, other than allowing customers to shop across state lines for a plan.
"What is your plan, Mr. Trump?" Rubio said. "What is your plan on health care?"
"You don't know," Trump replied. "The biggest problem —"
"What's your plan?" Rubio asked again.
"The biggest problem, I'll have you know…" Trump said, before being interrupted once again.
"What's your plan?" Rubio said.
Trump gave up, instead mocking Rubio for his near-catastrophic debate performance Feb. 6 in New Hampshire, when New Jersey Gov. Chris Christie badgered the Florida senator into repeating himself multiple times in a way that was subsequently mocked as robotic.
But as Trump once again invoked purchasing health plans across state lines, Rubio used Christie's tactic against him.
"Now he's repeating himself," Rubio said. The audience cheered loudly and knowingly, acknowledging that Rubio was not only demonstrating a toughness that he had not shown under fire from Christie, but was using against Trump the accusation Christie used against him.
Trump was flustered.
But the $64,000 question
remains
.
Hours before the debate, a Quinnipiac University poll sounded what could be a death knell for the hopes of party elders intent on blocking Trump's advance: it showed Trump handily winning in Florida, Rubio's home state.
It found that 44 percent of Republicans there would vote for Trump, compared to 28 percent for Rubio. Cruz would place third with 12 percent, according to the February 21-24 survey of likely Republican primary voters.
"If Rubio can't win in his home state, it is difficult to see how he can win elsewhere," said Peter Brown, the poll's assistant director.
The March 15 Florida primary is among the juiciest prizes of the Republican nomination race because it is the first big battleground where the winning candidate scoops up all of the state's delegates.
Some within the party still expect a long fight and cling to a scenario in which Trump, Rubio and Cruz stay in the race until the convention, with none gaining an absolute majority of delegates. In this case, after a first round, delegates would be released from their initial commitment and could vote for the candidate of their choice in a second round, thereby reshuffling the electoral deck.
Ben Carson begged someone to attack him and whined about not being asked enough questions again. Kasich may have moved into the understudy role for the vice-presidential nod, if he didn't ruin it by saying "we're not going to break up families".
Not a shitshow and not a food fight. There was lots of laughing and ooo-ing at snappy remarks and chucking and giggling at double-entendres, like
Apple's back door
and the like. The event was logistically executed without a flaw, the feed and swag compliments of Google memorable, but being in a room with maybe four or five hundred media types was a bit overwhelming at times for this reporter. I can't listen to what's being said and Tweet it out as fast as the kids can, which is why I rely on the snark or others. And the snark was a buffet all its own.
Now we wait for fresh polling and some election returns next week.
Update
: Worthy reaction from
Kevin Drum
...
Scorecard: I think Trump took some real hits tonight. He could start to lose a few points in the polls, especially if he spends the next week fending off questions about his tax returns and his $1 million fine and his health care plan. Rubio and Cruz both did well, but I give Rubio the edge. His attacks were a little sharper and the rest of his debate performance was a little better. Carson and Kasich were, of course, nonentities. Never has it been so obvious that no one cares about them anymore.
... and
Newsweek
...

No one seems to go after Trump for not caring about the little guy. His opponents didn't make enough of the old woman who lost her home to make way for a casino parking lot Trump was building in Atlantic City. But it quickly turned into a debate over eminent domain, not a woman at the end of her life.
There's plenty to use against Trump, namely the way he's treated the help. The writer Mark Bowden once depicted him as a rich maniac screaming at his gardeners and handymen. As long as people see Trump as outrageous in service of America, they love him. If they see him as indifferent to or hostile towards the little guy, then he's going to hurt. That's a battle Hillary Clinton with her fighting-for-you message could win.
Instead, Cruz and Rubio fumble soundbites. "The Palestinians aren't a real estate deal," Rubio kept repeating, even though it's a malapropism. (I'm pretty sure the Czechs aren't a real estate deal). And if Trump sees the Israeli-Palestinian conflict as a kind of real estate deal, he's no crazier than every president since 1967. But in their effort to try to portray him as a mogul in a keffiyeh, Cruz and Rubio stepped all over themselves without likely picking up a single vote in Boca Raton.
Maybe a year from now when President Rubio is in his first 100 days, these criticisms will seem lame, fleeting. But I suspect it's much more likely the first 100 days of the new administration will belong to a president from New York—Trump or Clinton.
... and the Chron's compilation of
spinmeister takes
.
Update II
: Here's
how it reads
when I play it straight down the middle.