That
press conference yesterday
...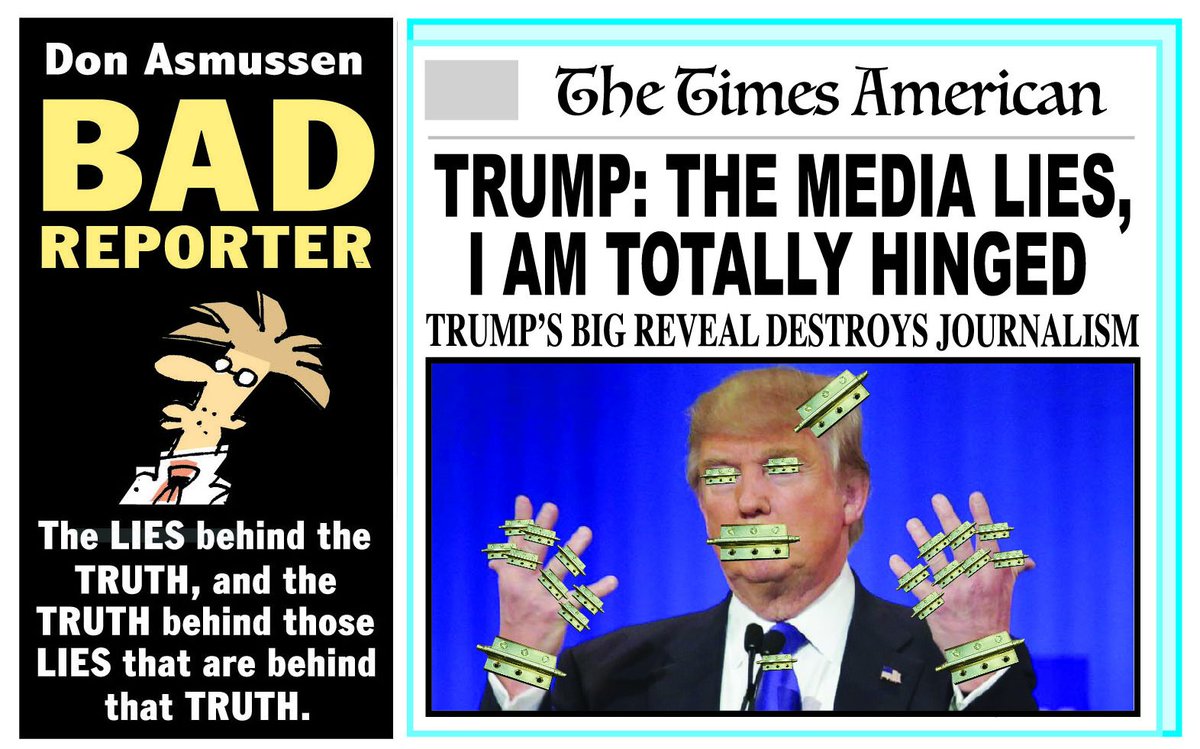 President Donald Trump launched an extraordinary denunciation Thursday of his critics, complaining he inherited a "mess" and slamming stories that his campaign was constantly in contact with Russia as "fake news."

Trump held court during a news conference that lasted an hour and fifteen minutes, carving out a stunning moment in modern American political history. He displayed a sense of anger and grievance rarely vented by a President in public -- let alone one who has been in office for just four weeks.

"I have never seen more dishonest media, frankly than the political media," Trump said, later slamming leaks to the press from the intelligence community -- some of which led to the resignation of national security adviser Michael Flynn.

"The leaks are real. The leaks are absolutely real. The news is fake because so much of the news is fake," Trump said.

While it was a marked contrast with the normal dynamics of a presidential news conference, the East Room show was vintage Trump. He touted his own poll numbers, victory over Hillary Clinton and discussed cable TV ratings and panel discussions.

"I'm here again to take my message straight to the people. As you know, our administration inherited many problems across government and across the economy. To be honest, I inherited a mess. It's a mess. At home and abroad, a mess."

That was the kind of message -- directed at large numbers of voters disgruntled with the performance of Washington's political establishment and delivered in a plainspoken, unvarnished manner -- that helped Trump win the presidency against all odds.

But his manner is also likely to offend or alarm other voters and may do little to alleviate skepticism towards Trump among political elites in Washington. Trump in fact predicted how his animated and unorthodox news conference will be interpreted in the press.

"Tomorrow, they will say: 'Donald Trump rants and raves at the press,'" Trump said. "I'm not ranting and raving. I'm just telling you. You know, you're dishonest people. But -- but I'm not ranting and raving. I love this. I'm having a good time doing it."
Indeed, both
the right-wing media
defending Flynn, and multiple anecdotal accounts from those who witnessed the reaction of average-Joe conservatives to yesterday's stunt indicate the consensus is of the "Give 'em hell, Donald" variety. This is what shaking up Washington looks like to them. It's
wearing out
some of the establishment GOP, which could be a good thing.
"The people that love him will love him more, the people that hate him will hate him more and the people in the middle probably will look at it the way that we look at in Congress, which is that's just the new normal. That's just the s*** that happens. I don't know how else to manage it," said one Republican lawmaker after Trump's press conference. "We're just trying to manage this s***."
Good luck with that. We'll wait to see how
the new comms guy
helps out, and maybe we won't be blowing Russian ships out of the water off the coast of Delaware after all.
Nuclear holocaust would be like no other
, you know. Trump's electoral college victory wasn't the largest since Reagan, and
Hillary didn't give any uranium
to the Russians, either.
Some of his greatest hits beyond "
real leaks are fake news
" -- do you remember
when he declared he loved Wikileaks?
-- included saying
he did not ask Flynn
to talk sanctions with Russia, but was glad Flynn did, even though he fired him for doing it. Which is exactly as warped as it sounds.
Without his wife or young son in the White House as a calming influence, with none of the lickspittles around him willing or capable to tell him to tone down his asshole CEO act, and with Trump himself operating under the delusion that the president is not to be questioned or criticized about anything he says or does, it's obvious that his temperament isn't going to be improving any time soon. So strap in, and hope Russia or North Korea or China don't decide
now
would be a great time to insert more chaos into his world. Our world.