Jonathan Easley at The Hill
.
One vote.

That's how close former Labor Secretary Tom Perez was to defeating Rep. Keith Ellison (D-Minn.) on the initial ballot and becoming the next chairman of the Democratic National Committee (DNC) in the first contested race in more than a decade.

The hundreds of DNC members and liberal activists gathered inside the Atlanta Convention Center hall gasped when interim chairwoman Donna Brazile read the results. None of the candidates received a majority and there would have to be at least a second round of voting where anything could happen.

When Perez supporters gathered at a party at the Westin Hotel in downtown Atlanta on Friday night, they thought they had about 220 votes, which would have given them a majority. Instead, they clocked in at 213.5 in the first round — some Democrats abroad and from the territories only get half votes — with eight DNC members abstaining. That left the door open for Ellison, who was only 13 votes behind.

The narrow miss struck fear in the hearts of Perez supporters who were frustratingly close to victory.

Many DNC members had told the campaigns they could only count on their support through the first round of voting. After that, all bets were off, sending the whip operations for both campaigns into high gear. With fringe candidates dropping out and DNC members susceptible to flipping, there were more than enough votes free to shift to Ellison.

"I thought Ellison would win on the second ballot," said one Perez supporter. "I have never been involved in something that intense."

Ellison's campaign was confident that they would pick up all 12 of the supporters from Idaho Democratic Party executive director Sally Boynton Brown, who bowed out after the first round but notably did not endorse any candidate.

Boynton Brown, who is in her early 40s, is a rising party star who fits the mold of a progressive. The conventional wisdom was that her supporters would back Ellison, who ran with the blessing of Sen. Bernie Sanders (I-Vt.). "We're going to win on the second ballot," an Ellison campaign source said in a text. "Some folks didn't vote in the first round and we're getting all of Sally's supporters."

Perez's allies weren't just rattled — they were also angry.
Naturally. Anger when their entitlement is threatened has been the
Clinton Dems' knee-jerk response to everything
for practically two years running.
Before the second vote, a text went out from Ellison's campaign to DNC members claiming that South Bend, Ind., Mayor Pete Buttigieg, who dropped out before the first vote, was casting his support to Ellison. "Keith is grateful to have the support of Mayor Buttigieg and we're in a strong position to win on the next ballot," the text said. "Can he count on your support?"

The problem: Buttigieg did not endorse anyone after dropping out.

One Ellison ally described the mistake as fog-of-war confusion. They quickly sent a follow-up text admitting the error. Instead, former DNC chairman Howard Dean — who was originally a Buttigieg supporter — announced he would be backing Ellison. Dean's emailed endorsement included a parenthetical disclaimer: "This is real."
This contains an element of what may have been gaslighting the Ellison crew by Dean. The Hill also reported Friday afternoon that Dean called Senate Majority leader
Chuck Schumer's endorsement of Ellison 'the kiss of death'
. (Juxtapose that against Alan Dershowitz's
ugly threats to leave the party
had Ellison prevailed.)
Establishment Democrats like Schumer and Dean endorsed Ellison so that when Tom Perez wins

#DNCChair

they can say, "We tried, Berniecrats."

— Nicholas Youngren (@NSYoungren) February 25, 2017
Back to the neoliberal rage.
Perez's supporters were irate, believing the Ellison camp was playing dirty. Some grumbled that if the Perez camp had made the same mistake, Ellison's supporters would have never let them live it down.

"Such a double-standard," one Democrat said.

As this drama unfolded, the whip operations on the convention hall floor had become infinitely more complicated.The campaigns were supposed to get lists of candidates everyone had voted, for but the DNC had to abandon its digital voting tools over fears the Wi-Fi would give out. They would go to the back-up plan of hand-counting paper ballots instead. That meant there wouldn't be a master list of who voted for who.

"Total chaos," one Democrat fumed.
You probably could have guessed that Gil Hinojosa was right in the middle of the action.
Still, the campaigns had their own lists of people they thought might be susceptible to flipping. On the Perez side, South Carolina Democratic chairman Jaime Harrison, Texas Democratic chairman Gilberto Hinojosa and DNC finance chairman Henry Muñoz III went to work whipping.

The Perez campaign was thrilled to have Harrison drop out of the race and join their side on Thursday, believing he brought at least a dozen votes. (But) they think Muñoz might have put them over the top. The finance chairman, who spends his weeks jetting across the country and raising millions of dollars from wealthy donors and celebrities from Miami to San Francisco, is among the most connected people at the DNC.

On the Ellison side, key labor leaders including Randi Weingarten and Stuart Applebaum, as well as Rep. Barbara Lee (D-Calif.), worked the floor.

The Perez operation won out. Ellison registered 200 votes — the exact same number he had in the first round.

Perez increased his count by 21.5 votes to 235 overall. That means he likely got most of Boynton Brown's 12 and most of the eight members who abstained from voting in the first round, as well as at least a couple of former Ellison supporters.
In a show of unity, Perez immediately tapped Ellison as deputy chair, and everybody in the hall screamed and cried. It was high drama, but it doesn't mean nearly as much as people think ...
or are complaining about
. Those who supported Perez, or just opposed Ellison -- and vice versa -- are members of two distinct Democratic Parties: one of them can't win elections outside of safe districts and metropolitan areas, and the other can't quit the losing team.
But count on the one Democratic Party to stumble on, dysfunctions intact and disconnected from a progressive caucus that keeps
threatening
to leave but,
like a battered spouse
, won't. Talk of a third-party movement is just that; until the Sanders/Ellison faction suck it up and vote their hopes and not their fears, it won't ever be anything more than social media blather and
fodder for Vox sentences
.
It's all about
the cash
...
[...]The Democrats have raised more money than ever and lost more seats than ever (1,000+ seats nationwide since 2009). They had an elaborate convention, beautifully crafted marketing, what was praised as the most sophisticated data operation to date and teams of veteran campaign strategists working in what was supposed to be the easiest Presidential race in recent history. But around 9:45pm ET on Nov 8, it was clear that the house of cards was on the verge of collapse. And that by the next day, the DNC would have to not just answer how they lost the Presidency and so many other races, but: Where did all that money go?

Former chair candidate and NH state Chairman Ray Buckley broke the news during the Phoenix DNC forum that as an executive member he had never seen the budget — -- and that most leaders at the DNC, as well as all of the members, had no idea where the record amount of money raised was being spent. When the DNC chair candidates debated over whether the party should accept lobbyist money (which was banned under Obama's administration), Buckley stated "the question should not be about whether we need the lobbyist money, but rather where we've spent all this money we've raised."

[...]

Several DNC members have privately disclosed that they received calls on behalf of Tom Perez from Jennifer O'Malley Dillon, a partner of Precision Strategies and former Executive Director of the DNC when the OFA was housed within it. Dillon is also a Co-Chair of the upcoming Unity Commission, forged out of the 2016 rules committee. The goal of the Unity Commission is to set the DNC's new rules.

Members have repeatedly discussed the frustration with the conflicts of interests within the Democratic party. For Dillon — whose firm received $571,573 from HFA and $593,397 from the DNC, totaling almost $1.2 million — having a seat as a co-chair of the DNC's rules committee, raises red flags.

One DNC member voting for Mayor Pete Buttigieg stated, "When a firm with a large contract with the DNC co-chairs the new rules committee and makes calls on behalf of a DNC candidate, you can't help but wonder whether Perez's interests lie with the DNC members or if he's cut a deal to keep the contract with Precision."
I'll stop there; you can go on without me.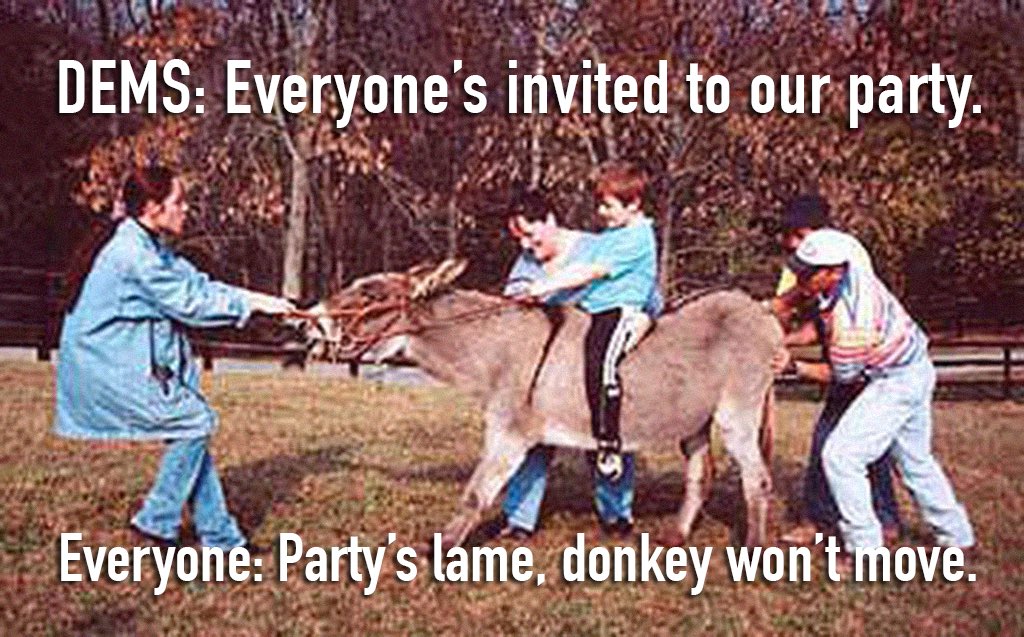 I got no votes left in me for this breed of mule.
Update
: In his first media appearance on yesterday morning's talking heads, Perez screwed the pooch.
"Mostly False"
.