Did you know there was a massive group of voters out there just waiting to have their concerns acknowledged by a political party? Like the renowned Chupacabra, the existence of the formidable Anti-Science Caucus by a couple of Hillbots has been exposed.
Kris Banks
and
Allan Brain
, fairly devoted Democrats in the fine Blue Dog/Houston tradition, have made certain that everyone is aware of this terrible development by interpreting the words of Green Party presidential candidate Jill Stein's views as ... well, as the headline above indicates.
(These guys don't often make their FB posts public, and they may delete this one or block me eventually -- which is why I'll edit this post with screenshots if they do -- so go look and read while you can, and while their "friends" are chiming in. Importance of full context and all that.)
Let's begin at the beginning. Back in March, a
Reddit
began on this topic, and a rabid tome added there took off like Zika among the haters of the Green. A couple of weeks ago, someone brought it to my attention and I responded in
the comments
of
this post
, reprinted below.
I read the Reddit; you are mistaken. She is NOT anti-vax. The WORST characterization you could imply is that she is "pro-choice" for parents about vaccinations (which might be a problem if there were only public schools in the nation).

1. All 50 states have a parental waiver of some kind, be it medical, religious, philosophical, or all three (like Texas). Forty-seven plus DC allow a religious exemption.

You want to argue egregious, start there.

2. This astronomer makes your case better than any I've read, for what it's worth (and is certainly closer to my own view). And schools have the right to ban students who haven't been vaccinated, particularly when there's an outbreak in their district, because of the legal liability they risk.

3. Anyway, Luddites mostly home-school these days -- when they can't afford to send their unvaccinated children to a private school, that is.

4. Stein is also an MD, which is to say that she knows more about these things than people who post to Reddit or comment on blogs or Google up someone's screed.

5. The bottom line is that you simply cannot force parents to vaccinate their children.

6. Because Stein is not strongly-enough-pro-vax for you is not the same thing as being anti-vax. That's the Brockolli part.
So the issue seemed resolved ... until David Brock and his compensated minions got busy with the propaganda catapult last week. Then Snopes weighed in, first with "Unproven" and
revised just yesterday with "False"
. You'd think
that
would have settled the matter, but there's this thing about lies being repeated often enough, you know.
(If you wish to understand precisely what the issue and the problem is in Texas, Anna Dragsbaek at TribTalk
has your explainer
. There may be some side-eye at Stein mashed up in there but unlike the Jackasses I'll not read too much into it; Dragsbaek makes the points that need to be made.)
That brings us to
Wonkette
, a late addition to this morning's other two Jackasses. If you're Banks, Brain, some of their friends or any other Hillbot looking to justify your festering resentment at this cycle's surge of the third party candidates, there you go.
Where the whole pandering premise fails is
at its foundation
: there simply aren't enough people in the Anti-Vax Caucus to help Stein register so much as a blip higher in the polls, much less put her in the White House. I shouldn't have to remind anybody that she's focusing on disillusioned Democrats, aka Berners, a much larger target.
There's no pandering because there's statistically nobody to pander to. This is simply a sad attempt by Blue Dogs and Yellow Dogs looking to cast a smear in her direction. Because that 3% or 5% of the popular vote, max, that Stein stands to collect is more than enough to aggravate the longest-running horror show orthodox Democrats torture themselves with: Hillary will be "Nader-ed" in a battleground state, just like Al Gore in Florida in 2000, the PTSD from which
yesterday's poor Jackass
still suffers. And so they are compelled to lash out, like the man who comes home from work after a tongue-lashing from the boss and
kicks his cat
.
Whaddaya gon' do when grownups who claim to be the smarter of the two major party's voters are scared of monsters under their bed? Shit, I'm so old I remember when Bill White was afraid that Barack Obama might endorse him in his bid for Texas governor in 2010.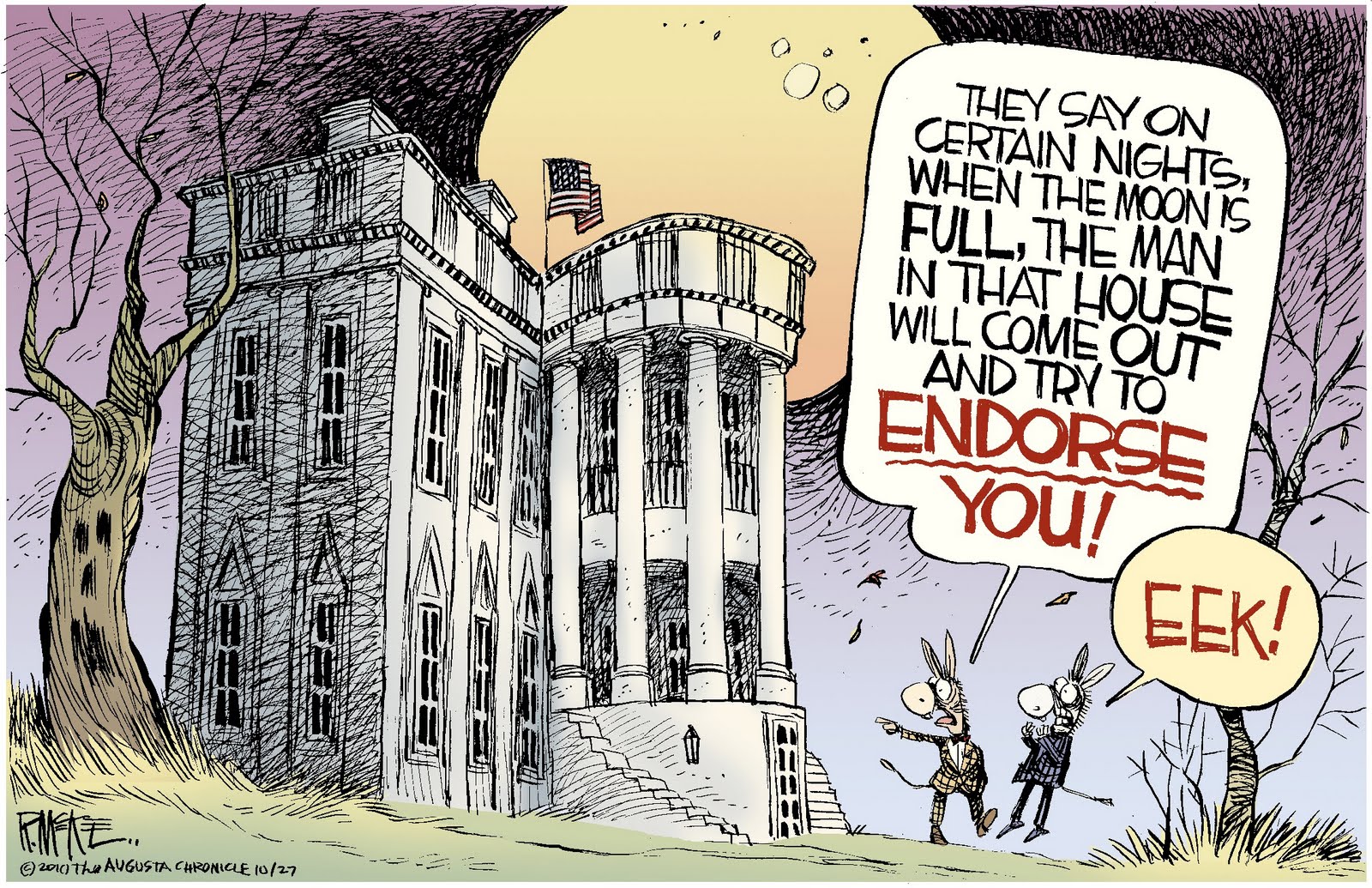 ¯\_(ツ)_/¯
Update
:
Socratic Gadfly
distills it as well. There are honest objections to hold if people want to do the depth of thinking about them. None of today's Jackasses managed that; it wasn't their intention to do much thinking anyway.
Update II
: And
yet more nuance on this topic
. It's perfectly okay with me for people to disagree with a candidate's stand on an issue, but it is duplicitous to put words in her mouth and then condemn those words (i.e. strawman).