-- Ohio Sen.
Sherrod Brown
became the
first surprise exit
from the presidential campaign yesterday.
Brown said in a statement that he was confident other candidates would adopt his political mantra — "the dignity of work" — and that he would continue working against President Donald Trump in the Senate instead of joining the crowded Democratic primary field.

"We've seen candidates begin taking up the dignity of work fight, and we have seen voters across the country demanding it — because dignity of work is a value that unites all of us," Brown said in the statement. "It is how we beat Trump, and it is how we should govern."
-- Yeah,
why did
three centrists and one progressive jump
out
of the hot tub?
Michael Bloomberg, the former New York City mayor; Eric Holder, the former United States attorney general; and Senator Jeff Merkley of Oregon officially declared … drumroll, please … that they would not be running for president in 2020. A fourth Democrat, Hillary Clinton, also said "I'm not running" to a New York City television station.

Such is the state of Democratic fervor to challenge President Trump that the party now has a subset of politicians: the almost-rans.

Bloomberg said he felt his time and personal fortune would be better used promoting immigration reform, gun control and climate change. Holder wants to continue focusing on ending gerrymandering. Mrs. Clinton, who never seriously pursued a third primary bid, said she would keep "standing up for what I believe." And Merkley will seek a third term in the Senate in 2020, after the (Oregon) state legislature rejected his request to allow him to run for both positions simultaneously.
For those first three, I believe it's something more obvious (though for the first two, their issues re-orientation is laudable).
Tina Nguyen at Vanity Fair
:
On Wednesday, Politico reported that (Joe Biden) has hired Cristóbal Alex, a high-placed alum from Hillary Clinton's 2016 campaign and the current president of the Latino Victory Fund. Meanwhile, according to Fox Business Network's Charlie Gasparino, Biden has notified his network of Wall Street supporters that an announcement is "all but certain" in the next month. That mirrors what my colleague William D. Cohan reported last week: with Bloomberg out of the way, Wall Street executives close to Biden say, the centrist-friendly lane is wide open. And who better scratches the establishment's sweet spot between Full Socialism and Donald Trump?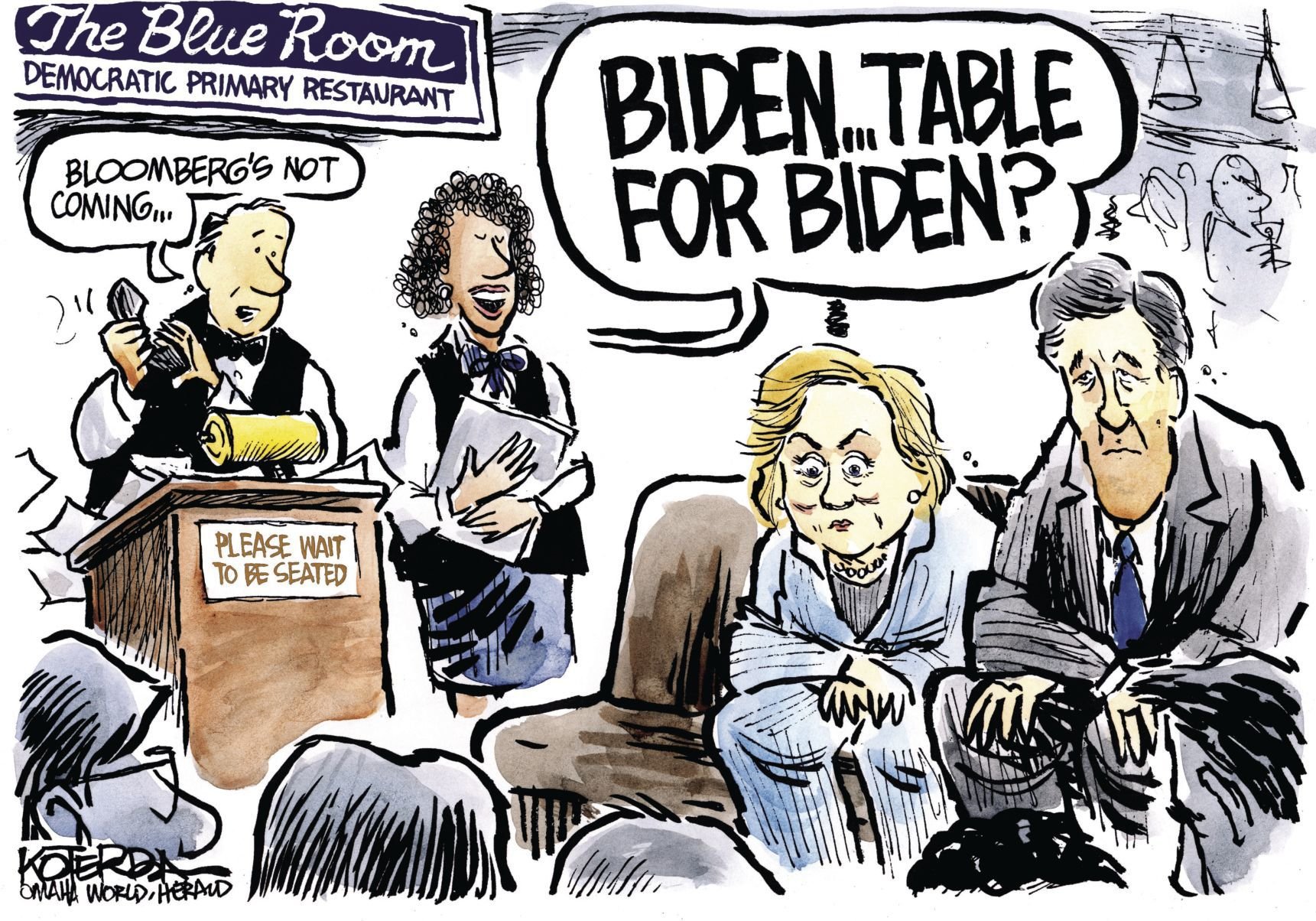 Yes, there it is.
-- Meanwhile,
Howard Schultz
brews up a
steaming pot of spoiler
. Maybe a different flavor than you were expecting, however.
Former Starbucks CEO Howard Schultz has recruited at least three veteran House Republican staffers and consultants to join his presidential campaign-in-waiting, bringing on seasoned and well-connected GOP operatives who know their way around the very political apparatus helping to reelect

President Trump

in 2020.

They include Brendon DelToro and Matt LoParco, who served as deputy political director and external affairs director, respectively, to former National Republican Congressional Committee (NRCC) Chairman Rep. Steve Stivers (R-Ohio) during the 2018 cycle.

A third Schultz hire, GOP consultant Greg Strimple, founder of GS Strategy Group, has done polling and other consulting for the NRCC, the National Republican Senatorial Committee and the Congressional Leadership Fund, the super PAC aligned with former Speaker

Paul Ryan

(R-Wis.) and House Minority Leader

Kevin McCarthy

(R-Calif.), according to campaign finance reports.

The hires are reflective of Schultz's efforts to cast himself as a political centrist who doesn't neatly fit into the rank-and-file of either major party. They also signal that Schultz, a lifelong Democrat, is likely to make a play for Republican voters should he mount a campaign for the White House.
So perhaps Democrats have less to worry about than they think ... ? What follows is the best argument one could possibly make to a skeptical etablishmentarian to
get the big money out
of our political system.
Sources said Schultz, a billionaire, is throwing big money at experienced, professional Democratic and Republican operatives alike — annual salaries perhaps in the range of hundreds of thousands of dollars.

In January, Schultz hired veteran GOP strategist Steve Schmidt and veteran Democratic strategist Bill Burton.

"I would insist on $500,000 a year, plus moving expenses," said a former veteran GOP presidential campaign staffer who has been closely watching the Schultz campaign take shape. "It's a tremendous financial opportunity. Senior jobs in a presidential campaign don't grow on trees, and if you are not enthused about working for Trump, it's alluring. I don't begrudge these people at all."

Last cycle, DelToro and LoParco worked out of the same Republican National Committee headquarters, which Trump has now merged with his 2020 reelection campaign. The merged venture is known as Trump Victory.
I got nothing to add. Let's see what the rest of the field did last week, courtesy as always
538.com
.
-- CO Gov.
John Hickenlooper
entered the scrum on Monday.
"I'm running for president because we need dreamers in Washington, but we also need to get things done," Hickenlooper said in the video. "I've proven again and again I can bring people together to produce the progressive change Washington has failed to deliver."

In an interview on "Good Morning America" Monday, Hickenlooper touted his work with a divided legislature in Colorado to pass progressive policies, including environmental and gun control regulations.

On Thursday, Hickenlooper held a kick-off event in Denver, and on Friday and Saturday he'll visit Iowa, according to his campaign, before being interviewed at the South by Southwest festival in Austin, Texas on Sunday.
That last link is the TexTrib's streamer. Here's their lineup for the weekend.
Saturday, March 9:
11 a.m.: U.S. Sen. Amy Klobuchar, D-Minnesota., speaks with Kara Swisher, co-founder and editor-at-large of Recode.
12:30 p.m.: Former Gov. John Kasich, R-Ohio, speaks with Washington Post associate editor David Maraniss.
2 p.m.: U.S. Sen. Elizabeth Warren, D-Massachusetts, speaks with Time contributor Anand Giridharadas.
3:30 p.m.: South Bend Mayor Pete Buttigieg speaks with Ana Marie Cox, the host of the Crooked Media podcast "With Friends Like These."
5 p.m.: Former Gov. Bill Weld speaks with Wired contributing editor Garrett M. Graff.
Sunday, March 10:
9:30 a.m.: Interview with Gov. Jay Inslee, D-Washington.
11 a.m.: Julián Castro, former secretary of Housing and Urban Development, speaks with HuffPost Editor-in-Chief Lydia Polgreen.
12:30 p.m.: Former Gov. John Hickenlooper, D-Colorado, speaks with BuzzFeed Editor-in-Chief Ben Smith.
CNN also has three Democratic contenders on Sunday night.
— CNN (@CNN) February 28, 2019
--
Bernie Sanders
is in Iowa this weekend; Council Bluffs last night.
— People for Bernie (@People4Bernie) March 8, 2019
Iowa City and Des Moines
tonight and tomorrow night
.
--
Kamala Harris
is still riding rough seas.
The Washington Post reported Wednesday on a scandal that engulfed Harris' San Francisco district attorney's office involving a crime lab technician who allegedly mishandled evidence, leading to the dismissal of nearly 1,000 drug-related cases. The California senator took responsibility for her office's handling of the situation, but at the time was criticized for mismanagement and failing to disclose the wrongdoing.

[...]

This weekend, Harris will travel to South Carolina for several meet-and-greet events across the state and the Charleston Black Expo Economic Empowerment Summit in Charleston Saturday.
-- Liz Warren is having a good week.
In a statement Wednesday, Warren weighed in on the controversy engulfing Rep. Ilhan Omar, taking issue with the way Omar's critiques have been labeled.

"Branding criticism of Israel as automatically anti-Semitic has a chilling effect on our public discourse and makes it harder to achieve a peaceful solution between Israelis and Palestinians," the Massachusetts senator said.

Warren will hold an organizing event in New York City on Friday, participate in a conversation at South by Southwest in Austin, Texas on Saturday and attend another organizing event in Dallas on Sunday.
Much more about the many vying for attention
here
.