... watch an Astros-Brewers World Series but I don't think that's going to happen.
[Long sidebar: When Jim Crane purchased the Houston franchise from Drayton McLane in 2011, he not only paid an inflated price (among other reasons, for reneging on a 2008 handshake deal to buy the team) and a small -- comparatively -- penalty to settle a racial discrimination case against his trucking company, he also had to agree to switch leagues with Bud Selig's franchise ... the Brew Crew. Crane had already missed on buying the Texas Rangers in 2010 despite being the apparent high bidder because Bud didn't like him. You can read about all of this
here
, except for the NL-AL flip-flop part, which you can find at Crane's
Wiki
page. It says (original MLB.com link there is dead) McLane had agreed with Selig to do this
before
selling, but Crane wrangled $35 million back from Uncle Drayton and the league -- presumably the other owners -- to hold to that arrangement.
One more thing: Crane
sued McLane a few years later
because Comcast couldn't sign up cable and satellite carriers for the fees they wanted to charge for the games. This was during the bad years, when the 'Stros lost 100 games in three consecutive seasons. How the lawsuit eventually worked out is of little consequence -- just another quarrel over a few million dollars between two billionaires, after all -- but Comcast's sports network for Astros and Rockets games eventually went defunct and was replaced by ATT. The team improved, people wanted to watch again, the rest is history.
So a Houston-Milwaukee Fall Classic would contain some elements of retribution -- or poetic justice if you prefer -- for the winner and the loser.]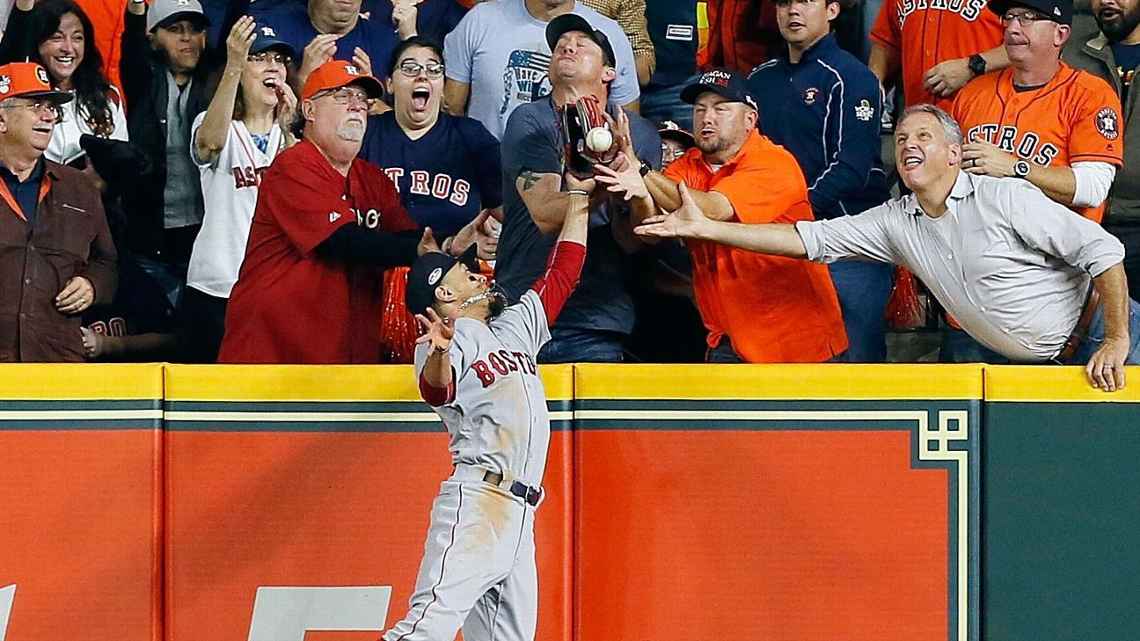 I'm not as mad about the
blown Joe West/Altuve home run call
as everybody else is. That's a hard one to get right in real time. Slow motion replay showed, to me, that Mookie
closed his own glove
before the ball got there (pick it up at 0:25); no fan interference. Even if West gets it right the first time or it gets overturned, and all else being equal from there, Benintendi's bottom-of-the-9th grab sends the game into extras. Point being: teams of destiny seem to get the breaks like that, as well as diving catches with the bases loaded for the final out, and the other stuff.
Verlander tonight, hopefully back to Boston with Gerrit Cole, who looked a little intimidated last time in Fenway, and then Keuchel, who's been no great shakes all season, but if it even gets to seven I'd be shocked. As for the Dodgers, they will have Kershaw again in a seventh game should that be necessary, which I doubt.
Dodgers-Red Sox, the networks are thrilled.
Kenley Jansen wears tighty whities
.
Update
:
This
best encapsulates the Astros' season, especially if you believe -- as I do -- that everything in life ultimately
comes down to luck
.