The Texas Progressive Alliance is wishing hard --
really hard
-- for
Harry Hamid
's health.
— Harry Hamid (@katydidknot) July 16, 2019
Update
, Tuesday, 8/27:
Rest in peace
. I'll post a remembrance in the coming days.
This is the full edition of the best of the left from, of, and around Deep-In-The-Hearta from the past week; we'll open with some gubernatorial promotions.
Gov. Greg Abbott announced his intent to appoint former appellate justice Jane Bland to the Texas Supreme Court to succeed Justice Jeff Brown, who has been confirmed as a federal district judge by the U.S. Senate. Bland authored more than 1,200 signed opinions while serving on the First Court of Appeals from her appointment in 2003 until her narrow 2018 general election loss to Gordon Goodman (D).

Bland is Abbott's third appointee to the state's highest court, joining Justices Jimmy Blacklock and Brett Busby. Both Bland and Busby will face voters in 2020. Bland will run for the remaining four years of Brown's term while Busby seeks a full six-year term.
The
Houston Chronicle
reports that Bland is one of several down-ballot Republicans appointed by the governor who
lost elections to their Democratic opponents
last November.
After losing his last chief election officer over a botched review of the state's voter rolls, Gov. Greg Abbott on Monday appointed a new secretary of state.

https://t.co/1yIKDDibnW

— Texas Tribune (@TexasTribune) August 25, 2019
Abbott's bad behavior
seemed to reach
some sort of critical mass last week.
The day before the El Paso shooting, the governor of Texas sent a fundraising letter about illegal immigration that included the sentence, "If we're going to defend Texas, we'll need to take matters into our own hands."

https://t.co/55Xa08DfwY

— Aman Batheja (@amanbatheja) August 24, 2019
State leaders are looking for solutions after El Paso. Texas Latinos say they can start by changing the words they use.

#txlege https://t.co/ZiMQqUhH1P

— Texas Tribune (@TexasTribune) August 24, 2019
The
TSTA Blog
wonders if our state's elected leaders will
ever
criticize Donald Trump.
Trump is going to have to campaign in Texas, and spend money in Texas, to secure his chances of winning re-election.

And that's the last thing state Republicans want.

https://t.co/nJfxdXcGK8 #txlege

— Texas Observer (@TexasObserver) August 25, 2019
Off the Blockquote
looked at the
psychological shift
-- i.e., "Democrats might actually
win something big
!" -- taking place in the pickled brains of Texas politicos.
— KUT Austin (@KUT) August 24, 2019
A few interesting
candidate filings
for Texas Legislature contests next year:
SD19: San Antonio attorney Xochil Pena Rodriguez, the daughter of former Congressman Ciro Rodriguez, established a campaign committee for a potential challenge of Sen. Pete Flores (R-Pleasanton) as a Democrat.

SD21: Seguin pastor Frank Pomeroy established a campaign committee for a potential challenge of Sen. Judith Zaffirini (D-Laredo) as a Republican. Pomeroy is the pastor at First Baptist Church in Sutherland Springs, the site of a 2017 mass shooting in which more than two dozen people -- including Pomeroy's daughter Annabelle -- were killed.

HD28 special: Rosenberg real estate investor Gary Gates announced he would run in the November 5 special election to succeed Rep. John Zerwas, who is resigning effective September 30. It would be his third try for the seat. Gates has spent more than $6.3 million in several previous unsuccessful attempts at elective office:
$2.9M on a 2016 race for Railroad Commissioner, losing the 2016 Republican runoff to Wayne Christian, 51%-49%.
$2.4M on a 2014 special election for SD18, which he lost to then-Rep. Lois Kolkhorst (R-Brenham), 56%-34%, wth three others combining for 10%.
$390K on a 2006 race for SD18, losing the Republican primary to then-Rep. Glenn Hegar (R-Katy), 55%-36%.
$277K on a 2004 race for HD28, losing the Republican primary to Hegar, 61%-39%; and
$327K on a 2002 race for an open HD28 seat, losing the Republican runoff to Hegar, 58%-42%.
A few more updates on

#HD148

from past couple days:

- Kendra Yarbrough Camarena (D) has confirmed she's in, switching from Houston City Council race

- Republican activist Lui LaRotta is running

- Houston doctor Terah Isaacson has filed CTA (party unconfirmed for now)

#txlege

— Patrick Svitek (@PatrickSvitek) August 23, 2019
Following up on a story mentioned in the
Wrangle three weeks ago
,
SocraticGadfly
examined the proposed Gannett-GateHouse merger and how it
might affect the Texas newspaper world
.
Almost
two dozen Texas cities
had their
databases compromised
in a series of coordinated ransomware hacks.
Updating the latest in the ongoing "Cops Behaving Badly" series ...
— Houston Chronicle (@HoustonChron) August 25, 2019
— St. John Barned-Smith ⚔️ (@stjbs) August 25, 2019
Scott Henson at
Grits for Breakfast
commented on Harris County DA
Kim Ogg's opposition
to the proposed bail reform settlement.
KPRC
interviewed Susan Criss, the former Galveston County
judge who presided
over the Robert Durst murder trial, who talked about a chance encounter with the defendant at the Galleria shopping mall in Houston one Christmas season.
And the state of Texas
executed another likely innocent man
this past week.
Another development in the wake of the El Paso massacre regards local control; while Governor Abbott
hosts roundtable discussions
, mayors in the state's largest cities want something done
beyond 'thoughts and prayers'
to make urban regions safer.
— Houston Chronicle (@HoustonChron) August 26, 2019
John Coby
at
Bay Area Houston
called out Houston mayoral candidate Bill King's dishonest endorsement claims. And Space City voters will be looking at an
extremely crowded municipal ballot
in November, writes Jasper Scherer at the
Chronic
.
— Patrick Svitek (@PatrickSvitek) August 27, 2019
Some ecology news ...
Natural gas flaring in the Permian Basin is distressing environmental activists; the TPA's own Sharon Wilson is pictured
in this account
from
Earthworks
.
Texas could be a leader
in the nation's much-needed low-carbon future, writes Michael E. Webber of UT's Cockrell School of Engineering (for
Texas Monthly
), if only a few minds would open up to the possibilities.
Downwinders at Risk
called attention to the TCEQ misusing a 17-year old rural air pollution model in order to permit a new asphalt plant in the city of Joppa. And a few hundred University of Houston students and alumni signed a petition to
disinvite two senior employees of Exxon Mobil
from speaking at the college's fall graduation ceremonies.
"We need universities and other institutions of power to stand up to corporations and other entities that do massive harm to the world and to our environment," (recent UH graduate Katherine Fischer) told News 88.7.

She pointed to an accusation that the oil and gas company has known for a long time about the effects of burning fossil fuels on climate change but continued to deny the science.
And now for some lighter fare ...
Therese Odell
at
Foolish Watcher
tapdances into the Sean Spicer/
Dancing with the Stars
controversy.
A Houston Popeye's fried chicken restaurant
trolled Chick-Fil-A
after the latter trolled the former over the popularity of their new chicken sandwich.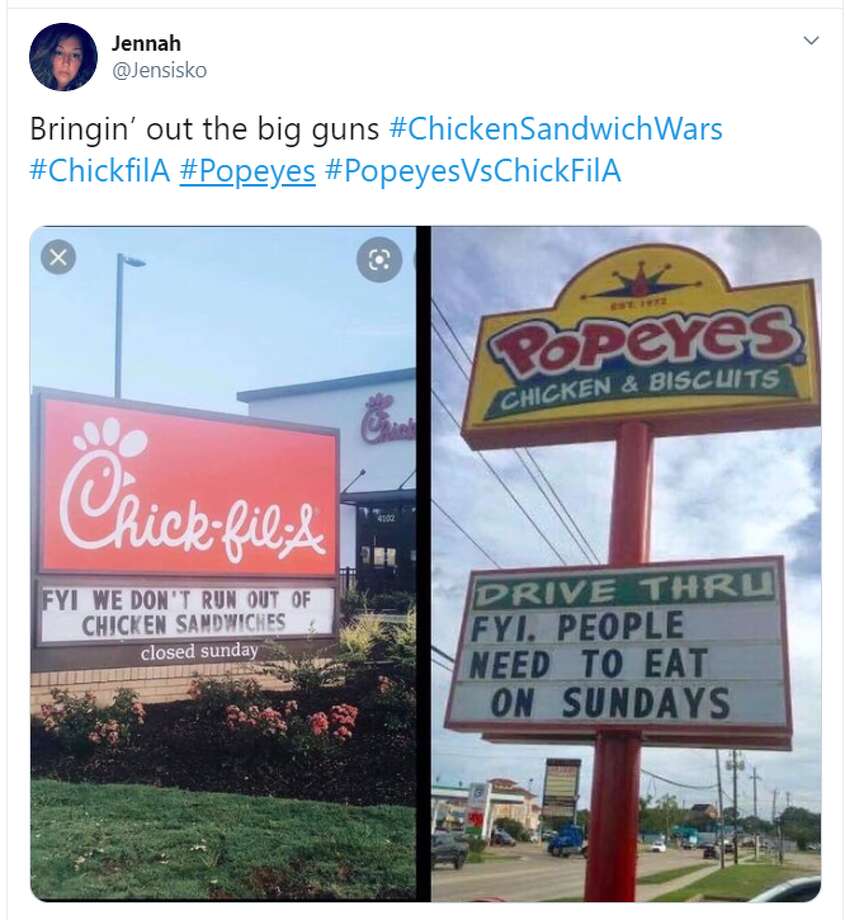 And the
Texas Standard
recounts the tale of how the town of Redwater, Texas, was once named after the
famed humanist Robert Green Ingersoll
.
— Houston Chronicle (@HoustonChron) August 25, 2019