Early voting in the Texas primary runoff elections begins today. Unless you're
still undecided
, waiting to sign an
access petition for the Texas Green Party
, or just want to
risk voting during a tropical rainstorm
, the TPA encourages you to cast your ballot before Election Day, May 22nd.
(In this blog's humble O, you're better off using the Congressional endorsements of
Our Revolution Texas
than you are the
HGLBT Caucus'
-- their picks in downballot Harris County races are fine -- but the choice is yours.)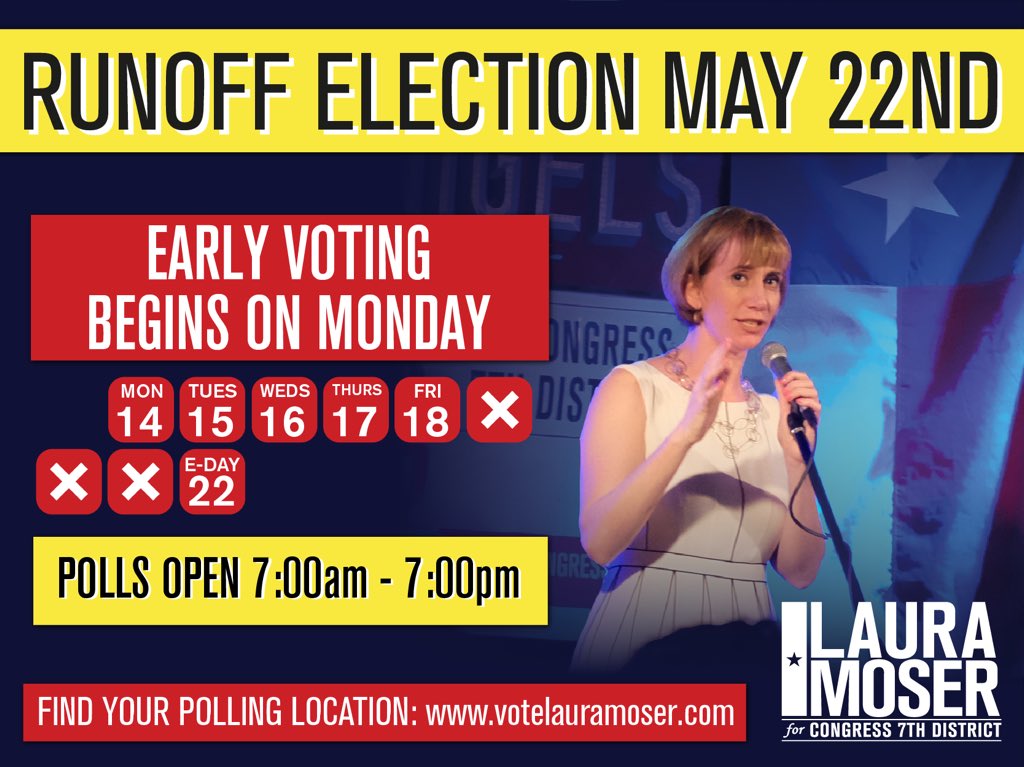 Just don't wait for the GOP Turnout Wagon to come by and pick you up.
PDiddie at
Brains and Eggs
was one of the only Texas bloggers who wrote about the debate between Lupe Valdez and Andrew White
before
and
after
it happened.
David Collins
, appropriating Mattress Mack's advertising slogan, points out that Instant Runoff Voting really will
save us money
(by not having to spend it on runoff elections).
Socratic Gadfly
read James Comey's book and found that any "Higher Loyalty"
is ultimately to himself
.
Scott Henson at
Grits for Breakfast
ponders the correlation between the DPS 'border surge' and the reduction in DWI citations. In a salient
posting the week before last
, Henson made an excellent point about the City of Houston's budget-busting request for more cops on the streets.
Mayor Sylvester Turner wants voters to bust the city's revenue cap to pay for public safety. However, we're at a moment in history when crime is at historic lows and the demands on law enforcement are rapidly evolving. Just hiring more warm bodies to throw at an endless stream of 911 calls and false burglar alarms on patrol wouldn't be worth it. Rather, investments in the civilian side -- crime labs, crime-scene techs, evidence management, etc. -- make a lot more sense. When Houston's chief, Art Acevedo, was in Austin, he focused almost exclusively on bolstering patrol in his budget requests while our crime lab failed under his watch and all civilian functions basically withered on the vine. Houston shouldn't make the same mistake.
Christof Spieler
asks what it will take for the Bayou City to become more resilient to flooding.
Texas cities are taking on climate change
, writes Kaiba White at
Texas Vox
.
Ty Clevinger at
Lawflog
updates on the lawsuit he has filed against the Department of Justice for
refusing to release the records
associated with the murder of DNC staffer Seth Rich.
The
Salon of Somervell County
sagely observes that if something is deemed "fake news", that means that it's
news that does not flatter Trump
.
Robert Rivard
wants San Antonio to go public with the Alamo Plaza restoration plan.
Dr. Carlos J. Cardenas
argues that the best Mother's Day gift we could give would be a commitment to reducing the maternal mortality rate.
Harry Hamid
explains why he hasn't been blogging much lately.
Beyond Bones
presents seven things you probably didn't know about Sir Arthur Conan Doyle.
Finally, the
Texas Women's Voices Project
, presented by
Texas Monthly
, is a must-read.