Because it sure doesn't seem like the Texas Democratic Party does. The most recent post on the topic that Google returns for me (if you don't count the
Castros' turndowns in May
) is dated February 9 of this year -- five months ago -- and is a bit of rumor and off-the-record chat collected by
the TexTrib about a private meeting
at the end of the previous month.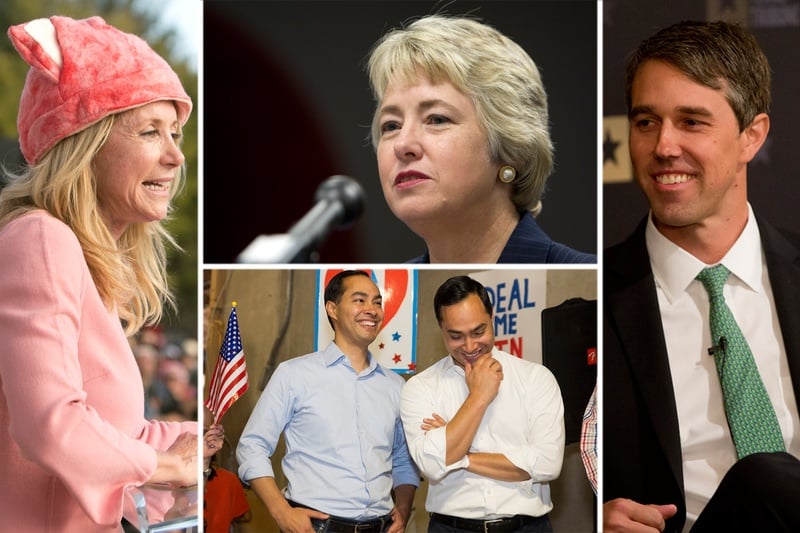 In late January, a high-profile forum for candidates vying to be the next Democratic National Committee chair brought hordes of Democrats to Houston ready to plot the party's national future. But for Texans in the party, the more consequential meeting may have occurred the day before in Austin.

A tight-knit group of Texas Democratic leaders traveled to the state capital that day to begin preliminary conversations about the 2018 midterm races.

According to over a dozen interviews with Texas Democratic insiders and national Democrats with ties to the state, the meeting included some of the party's most well-known figures from Texas including former Secretary of Housing and Urban Development Julián Castro, his twin brother, U.S. Rep. Joaquin Castro of San Antonio, Texas Democratic Party Finance Chairman Mike Collier, former state Sen. Wendy Davis, state Democratic Chairman Gilberto Hinojosa, U.S. Rep. Beto O'Rourke of El Paso, former Houston Mayor Annise Parker and state Reps. Rafael Anchia of Dallas and Chris Turner of Grand Prairie.
Their main agenda: mapping out a strategy for the 2018 midterm elections.
You should already know what Collier and O'Rourke have decided to do. It's highly doubtful Davis (who lives in Austin now) will make another bid for the Mansion, and Anchia and Turner have 'special session' on the brain. Parker wants to run for Harris County Judge, but not if
Ed Emmett is still there, and he's still going to be there
in 2018. Of these, perhaps Turner or Anchia will be so frustrated after the special and
Abbott's heavy hand
that they'll throw their hat in. Some things haven't changed in the last six months, however.
The expectations in the room were not soaring but were cautiously hopeful. That optimism was mostly rooted around one person: President Donald Trump.
Uh huh. Maybe
Cliff Walker
can find
Betsy Johnson
, clean off
her combat boots
, and keep the Greens from getting to 5% again. (The GP already has to petition for ballot access next year, thanks to the two afore-mentioned in 2016.) In similar vein, the two most vulnerable statewide Republican incumbents have also drawn no challengers to this point.
Party insiders are also coveting two other statewide offices: attorney general and agriculture commissioner. The two Republican incumbents, Ken Paxton and Sid Miller, respectively, have faced a series of political struggles that could complicate their re-election campaigns.
So here's my prediction: as in 2006, there will be a few populist figures with little to no experience in elective office step up; the party won't find any money or other support for them, and ... you can probably guess what will happen. Then in December of 2018, as all eyes turn to the presidential tilt in two years, the chairman of the TDP will stand up at a meeting of the SDEC and say, "It was a tough year; we focused on a few targeted races".
The House Democratic campaign arm recently announced it was eyeing three GOP-held congressional districts: U.S. Rep. John Culberson's 7th District, U.S. Rep. Will Hurd's 23rd District and U.S. Rep. Pete Sessions' 32nd District. Only the appearance of Hurd's district on the list was unexpected.

Democrats did not spend money in either Culberson's or Sessions' districts in recent cycles, but presidential nominee Hillary Clinton's performance there in 2016 encouraged the party to take a second look.
Yeah, they're
swarming into the primaries
against Culberson and Sessions. The money race is already being reported, and thank Jeebus
James Cargas isn't winning that
, either.
As for the statewide races? I've seen this all before, and so have you.