Extremely
unfortunate revelation
for the presumptive nominee.
In the days before Hillary Clinton launched an unprecedented big-money fundraising vehicle with state parties last summer, she vowed "to rebuild our party from the ground up," proclaiming "when our state parties are strong, we win. That's what will happen."

But less than 1 percent of the $61 million raised by that effort has stayed in the state parties' coffers, according to a POLITICO analysis of the latest Federal Election Commission filings.

The venture, the Hillary Victory Fund, is a so-called joint fundraising committee comprised of Clinton's presidential campaign, the Democratic National Committee and 32 state party committees. The set-up allows Clinton to solicit checks of $350,000 or more from her super-rich supporters at extravagant fundraisers including a dinner at George Clooney's house and at a concert at Radio City Music Hall featuring Katy Perry and Elton John.

The victory fund has transferred $3.8 million to the state parties, but almost all of that cash ($3.3 million, or 88 percent) was quickly transferred to the DNC, usually within a day or two, by the Clinton staffer who controls the committee, POLITICO's analysis of the FEC records found.
Maha
even beats up
on Rachel Maddow and the rest of the talking political heads for whiffing on the story. There's more at the Politico link about the shell game and the deception of the state parties that so many Clinton supporters have both hailed as restorative to a Democratic majority and used as a club to beat Bernie Sanders with (because he wasn't doing it). They were of course extending the argument out to "he's not a Democrat",
another falsehood
.
Even Clooney's piousness -- expressed in a television interview just a couple of weeks ago -- makes him look like either a liar or a fool.
Clooney admitted that ($353,000 to sit in a room with him) was "an obscene amount of money." But he justified it by saying "the overwhelming amount of the money that we're raising, is not going to Hillary to run for president, it's going to the down-ticket."
No, it isn't.
"Particularly the parties in states that are not competitive, they worry that the DNC won't let them keep any of the money, but the historical reality is that they wouldn't have gotten the money anyway," the (anonymous for fear of retribution from the DNC and the Clinton campaign) operative said.
Hello, Texas.
Let's cut to the chase:
this isn't going to cost her any support
she hadn't already lost long ago. Her supporters just see this as part of the game that they think she's best at playing. They are unmoved by the prevailing sentiment
among all voters
that the game is rigged in precisely this fashion. They disregard all instances of her corruption, staying uniformly focusing on 'whatever it takes to win'. And according to the most recent Electoral College projections,
they are winning
.
Seven swing states, in buttery yellow above. But it's not even that close, with two hundred and forty-seven EC votes already in the virtual can.
For the Democrats, a victory in 2016 entails zero expansion of the blue map, merely the limiting of blue-to-red transformations. Assuming the lean, likely, and safe Democratic states remain loyal to the party, the nominee need only win 23 of the 85 toss-up electoral votes. And if a lean Democratic state such as Wisconsin turns red, it is relatively easy to replace those votes with one or two toss-ups.
Yeah, it's early blah blah. It's early enough for me to say that if Hillary Clinton snatches defeat from the jaws of a victory like this, then such a massive failure as that will be all hers to bear. Alone. It won't be my fault; it won't be your fault, and it won't be the fault of her handlers, bundlers, staff, or sycophants. It will all be on her.
This is why I keep saying you are free to vote your conscience, or your progressive principles. My vote for Jill Stein in Texas
does not
any more elect Donald Trump than someone's in California, or any of the other 41 states whose electoral outcome is not in doubt.
So all the Sanders campaign can think of to do is
go directly after
her superdelegates.
(T)he Vermont senator said that those superdelegates supporting the former secretary of state ought to rethink their pledge — particularly in states where he won handily.
"I would ask the superdelegates to respect the wishes of the people of those states," Sanders said.
Overall, Clinton has the support of 520 superdelegates, while Sanders, the self-described democratic socialist, has "all of 39" — despite winning 17 primaries and caucuses "in every part of the country."
Sanders pointed out that although he won Washington state's Democratic caucuses by 46 points (73 percent to 27 percent) and 25 of the state's 36 pledged delegates, Clinton has the support of 10 of Washington's Democratic unpledged superdelegates.
"We have zero," he said. "Obviously, we are taking on the entire Democratic establishment."



As NPR's Tamara Keith points out, Clinton would still be ahead in the overall delegate count even if the superdelegates from the states Sanders won shifted to his side.

"If you mandate that the superdelegates be divvied up proportionally, the margin for Clinton narrows further," says the Washington Post's Philip Bump. "But, in the same way that she still has a lead in pledged delegates because of proportional distribution, she has a lead with superdelegates, too."
When superdelegates are also corporate lobbyists, you once again face the realization that the system is
corrupt and built to stay that way
.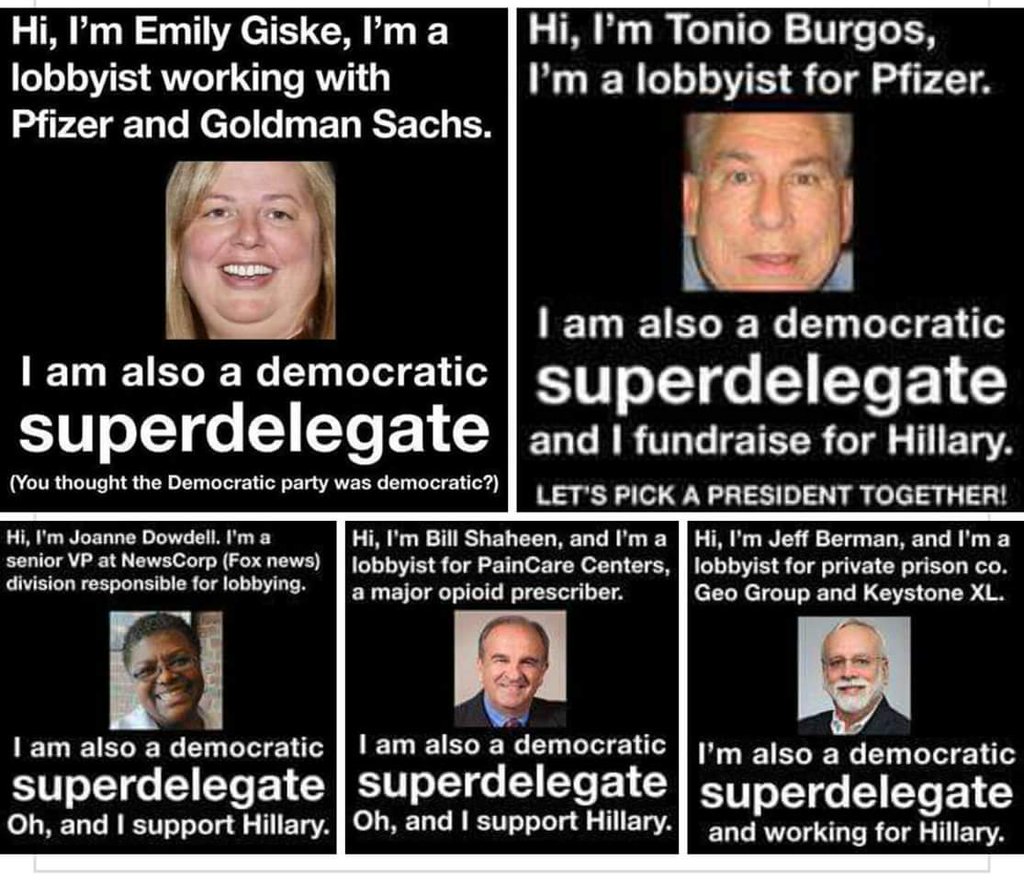 On July 25, these superdelegates will cast votes at the Democratic National Convention for whomever they want, regardless of primary and caucus outcomes. Democrats like to describe superdelegates as mostly elected officials and prominent party members, including President Obama and former Presidents Bill Clinton and Jimmy Carter.
But this group, which consists of 21 governors, 40 senators and 193 representatives, only makes up about a third of the superdelegates. Many of the remaining 463 convention delegates are establishment insiders who get their status after years of donations and service to the party. Dozens of the 437 delegates in the DNC member category are registered federal and state lobbyists, according to an ABC News analysis.
In fact, when you remove elected officials from the superdelegate pool, at least one in seven of the rest are former or current lobbyists registered on the federal and state level, according to lobbying disclosure records.
That's at least 67 lobbyists who will attend the convention as superdelegates. A majority of them have already committed to supporting Hillary Clinton for the nomination. And 41 lobbyist superdelegates, almost six in 10 of all lobbyist superdelegates, have already committed to supporting Clinton.
Howard Dean
and
Tom Daschle
both long ago sold themselves to their corporate masters. Want the full list of superdelegates?
Here you go
.
But with respect to the superdelegate math shown by Vox above, there's no
coffee brewing
anywhere around the Sanders camp. I really and truly don't blame Clinton folks for being mad about his inability to face reality, but their outrage over it has to be tempered for the sake of the sure-to-be-elusive party unity when the Bern finally goes out.
As long as Berners are still feeling it, they're not facing the
truly inevitable
, which probably means too many of them wind up taking next Election Day off and going to the beach. That may be a bad thing for Democrats -- not Clinton herself but down the ballot -- if they cannot replace the lost votes with ones from Latinx and Republicans set adrift by Trump. I'm thinking they probably can, because nothing else really explains
this level of hateful spew
.
Still not seeing too much for Clinton and her ilk to be concerned with in the sprint to the finish, but the accumulation of these self-inflicted wounds might tip the public perception at any time. One stumble too many and she's suddenly vulnerable. To losing the presidency
to Trump
.
Who does that speak the worst of?