It's clear that I (and others) should have spent some effort
dragging the other phony Latina
in the scrum to challenge Senator Cornhole.
Forrest Wilder of Texas Monthly
, at 5:41 p.m yesterday.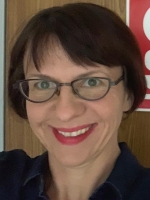 Annie "Mamá" Garcia is one of the twelve entrants in ... the Democratic race to take on John Cornyn. Fun fact: Garcia, who isn't Hispanic, adopted (the nickname) because she says she has a 'el corazón Latino'. This isn't quite as ballsy as changing your middle name to "SECEDE" (or your last name from Costello to Tzinztún Ramirez, for that matter) but it does suggest a certain Rachel Dolezal level of hubris.

What else? Her website's donation button relies not on English or Spanish to solicit money, but rather German: "Ich bin eine Geschäftsfrau." She walked 420 miles (heh) across Texas to protest Cornyn, and says that the arguments for marijuana legalization are "as varied and nuanced as the number of strains sold at the Bloom Room in San Francisco." She doesn't know what colonias are, but she's learning ...
My edits, beyond the ellipses, are within the parens in the first graf above; the '(heh)' is Wilder's. And then his update, at 11:03 p.m.
I predicted earlier this evening that ... there would be a surprise candidate, someone who "shouldn't" make the runoff because they were an unknown, underfunded, or just plain goofy (or all three!). This happens with regularity in Texas Democratic primaries. Think Jim Hogan, of goats-eat-watermelons fame. Or perennial candidate Gene Kelly.

Well, as usual, it looks like I'm wrong. Right now, with 40 percent of precincts reporting, Hegar is leading with 24 percent of the vote, followed by veteran Dallas state senator Royce West at 14 percent, and activist Cristina Tzinztún Ramirez at 13 percent. The next two candidates -- Annie "Mamá" Garcia and Houston city councilwoman Amanda Edwards -- are trailing with 9 percent each. ... Well, we'll keep our eyes on this one. Maybe "Mamá" will make a comeback.
No comeback came.
Obviously Evan Smith at the Texas Tribune
picked the wrong unserious candidate
.