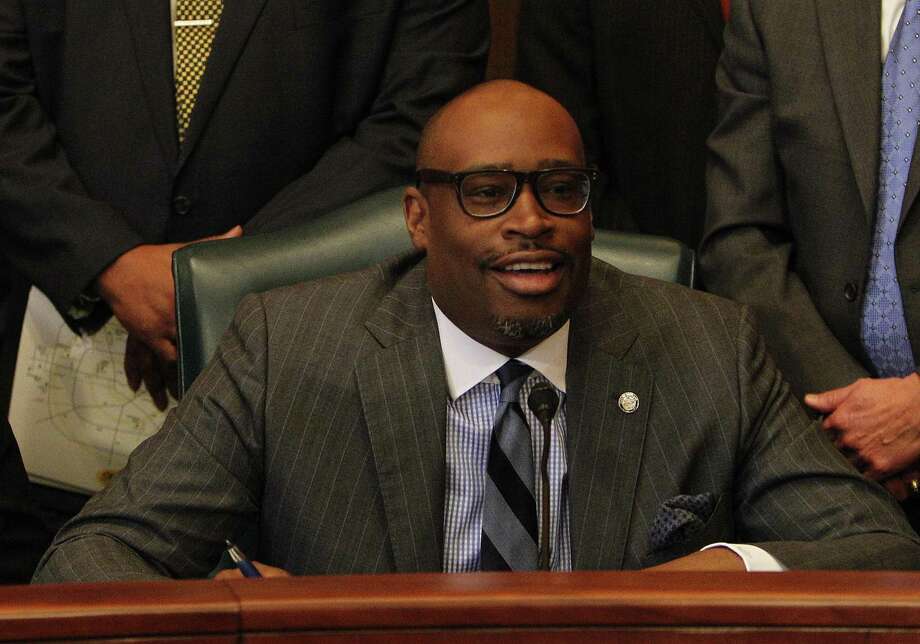 As Election Day got under way, Houston City Council member
Larry Green
-- my representative downtown -- was found deceased in his bed at home after failing to appear at the regularly-scheduled weekly council meeting. Just 52, it's a tremendous loss for the city, District K, and of course his family and friends. His political future was quite bright. And his legacy will encapsulate many things, but every time I see one of the
painted electrical boxes
in my 'hood, I'll think of him warmly.
As to a couple of top-of-the-ticket results from last night ...
-- Projected
almost precisely by the TexTrib
's poll from just over two weeks ago, Lupe Valdez and Andrew (Average) White (Guy) will run off in May for the right to
get crushed by
face Greg Abbott in November. They finished at 42.9 and 27.4% respectively; the TT predicted 43-24. Likewise, the Trib had Abbott prevailing with 95% in his primary; he
underperformed that slightly at 90.4
. << This link has the final tallies for all the statewide, Congressional, judicial, and statehouse races I'll be referring to in this and subsequent posts. Just click and open it now so you can scroll down as I continue. It's the best resource I found, for the county maps alone. (Credit where it's due: the TexTrib has beaten the pants off everybody else this cycle.)
My man Tom Wakely gained no traction. The two African American candidates, Cedric Davis and Grady Yarbrough, along with Jeff Payne and even Adrian Ocegueda, finished ahead of him. Valdez will win the runoff easily if Latin@s return in the summer. But she needs to start raising some money, get better coaching and preparation if she's going to debate White, and otherwise project some viability as a potential and likely favored nominee.
-- Sema Hernandez earned almost 246,000 votes (or 23.7%) in the D US Senate primary. She raised less than $10K for her campaign. I'll let you nerds do the math on her cost per vote. She won about three dozen mostly rural and RGV counties; Webb (Laredo) appears to be the largest. Considering the degree to which she was both ignored and disrespected by the media and her primary opponent, that's amazing. O'Rourke didn't 'coast', folks. And because the GOP gorged their turnout numbers on Election Day -- the Senate primary on the R side drew over 1.5 million votes, while the Dems totaled just over a million, and Ted Cruz has already fired a shot at
"liberal man Robert"
-- the prospects for the blue wave seem to be ... swirling?
More on the way.