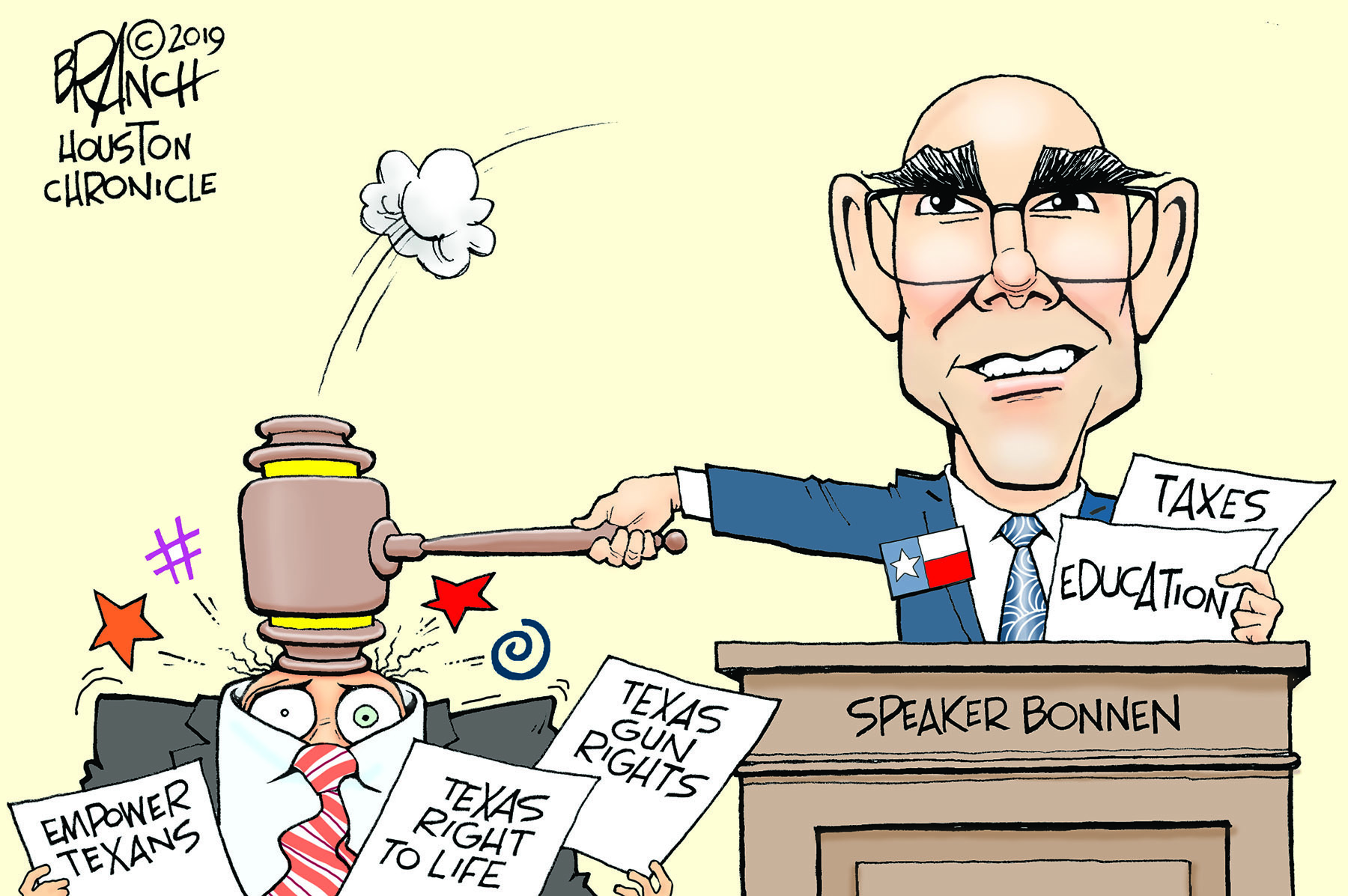 With the
dust settled from Sine Die
, the Texas Progressive Alliance is looking forward to a nice long vacation, somewhere in cool air. Before we head for the airport,
here's Ross Ramsey
.
The bustle in the Texas Capitol's halls hasn't completely subsided, but the business suits have been replaced by the shorts and T-shirts of summer tourists.

Legislative season is mostly over. The political season is about to start.

Gov. Greg Abbott has until Father's Day -- June 16 -- to decide which bills to sign, which ones to veto and which ones will become law without his signature. He'll go through the budget and scratch out the line items he doesn't like.

The next day, the political fundraising gates will fly open. The veto deadline ends the fundraising blackout for the state's elected officials. They can't raise money while they're legislating because that looks too much like open bribery. They have to wait.

And there's a rush at this point every two years, because there's a June 30 deadline for reporting how much money they've raised. A candidate who can haul in an impressive enough amount of money during those two weeks could persuade potential opponents to find something better to do in the 2020 elections.

Maybe that sounds early. But the candidate filing deadline in the 2020 elections comes before the end of the state's Dec. 31 campaign finance deadline; the summer number is all candidates will have to judge the financial strength of their opponents before they sign up for the March primaries.

Like it or not, the political winds are blowing.

Ten pieces of legislation go to voters for approval in November, in the form of constitutional amendments, rather than to the governor. That package includes a range of items including a proposed constitutional ban on personal income taxes, tax exemptions for disaster victims and -- this is true -- what happens to police dogs when they retire and who gets to take care of them.



— David Forrest (@NewsForrest) May 30, 2019


That might not be big to you, but it's important to the dogs.
They wouldn't be our Texas Legislature without screwing something up, however, and everybody who needs to have plumbing work done and also lives in the state
is going to have to beware
.
Plumbers in Texas will no longer be subject to state regulations after lawmakers this week flushed the state plumbing code and the Texas State Board of Plumbing Examiners, a state agency that employed dozens and generated $5.2 million in revenue in 2017.

Soon, anyone can call themselves a plumber without completing the agency-required education and tests, said Roger Wakefield, master plumber and owner of Texas Green Plumbing in Richardson. Wakefield, who has been a plumber for 40 years, said the industry is now "completely unregulated," and will lead to more unqualified workers entering the workforce.

"We're going to put the safety of the homeowners and the public of Texas in jeopardy," he said. "Plumbers install medical gas, they install the potable drinking water that we have every day. If they're not doing it right, people's safety is at risk."

Wakefield said he and other plumbers are calling Texas Gov. Greg Abbott and asking him to order lawmakers back to Austin for a special legislative session to remedy the situation. Abbott's press office did not respond to requests for comment, but the governor indicated on Twitter on Monday that he has no plans to reconvene legislators before the next regular session in 2021.

The state plumbing code will cease to exist on Sept. 1 while the state plumbing agency, which had 28 employees as of March, will have a "wind-down" period to wrap up operations by September 2020. Several requests for comment left with the state board were not returned.
No sooner did Greg Abbott get
kicked in the teeth
over SOS David Whitley's non-confirmation did
he re-appoint the man to his staff
, at a salary increase. You've heard of the Peter Principle? White men failing upward? Some people just don't care what you think.
As early voting concludes
tomorrow in San Antonio (
Rivard Report
's
voting guide
) and Dallas (
Jim Schutze
and
Stephen Young
both have stories on the mayor's contest there) and other Texas cities' municipal elections, Houston gets set to raise the curtain on its November races for mayor and city council. The most noteworthy development was CM Dwight Boykins' link to a mayoral bid being discovered (he has not formally announced any plans yet, and the site imaged in the Tweet has now been disabled).
— Jasper Scherer (@jaspscherer) June 2, 2019
A reminder that in
last Monday's Wrangle
, the Houston elections were
extensively profiled
at the
Urban Edge
blog, and that Erik Manning has helpfully compiled -- and keeps promptly updated -- an
online spreadsheet of all candidates
in the races to sit at the Bagby horseshoe.
US Senate candidate Sema Hernandez formally kicks off her 2020 campaign this Saturday.
— Sema🌹 (@_SemaHernandez_) June 2, 2019
In the "will he or won't he" sweepstakes that the Texas Tribune
seems to enjoy reporting
the most, two rumored Democratic challengers to John Cornyn --
Chris Bell
and state Sen. Royce West -- are moving closer to entering the fray. This blogger heard over the past weekend that West will make a formal announcement in two weeks, which, if accurate, likely precludes Houston CM Amanda Edwards from running.
Off the Kuff
was all over the
reports of Republican Census rigging
that emerged from the computer files of a deceased redistricting guru.
See here
, not there, for the background and feel free to join or defend the Green-bashing in Putz Kuff's comments. (I think the US Green Party should allocate some funds to
buy Chuck a shelter kitty
, name it 'Verde', and ask his daughters to leash it by the door every evening so that when he comes home from work,
he can kick it
.)
Texas Public Radio
via
Texas Standard
spoke with a physician about the recent deaths of migrant children in detention centers.
"I'm a pediatrician, and I care for sick children all the time, and I would never suggest, in healing, a child return to a cold concrete floor, covered by a silver mylar blanket which is really more of a sheet, to heal from their illness, and certainly not in a setting where they're exposed to constant stress."
Mother Jones
suggests Trump might be able to learn something from the only state legislator who actually lives along the Texas-Mexico border.
Space City Weather
says Houston may get wet this week from the Gulf's first tropical disturbance, and Zach Despart at the
Chron
points out that the area is still not close to recovered from Harvey.
Today is the 1st day of the Atlantic hurricane season. Almost 2 years after Hurricane

#Harvey

struck Houston, just 5% of its massive infrastructure damage has been repaired.

The region remains extremely vulnerable to flood-producing storms.

https://t.co/vl4lcgeU5H

— Zach Despart (@zachdespart) June 1, 2019
SocraticGadfly
looked at a key period of early Anglo-Texas history to discuss
how much of northern Mexico President Polk wanted
, when and why, and connected this to the Compromise of 1850.
A thoughtful long-form piece at
Texas Monthly
by
Christian Wallace
details the human costs associated with the latest oil boom in the Permian Basin. Along the same lines, the
AP
via the
Fort Worth Star-Telegram
writes about the state's growing pains as the thirst for water intensifies.
The Texas Observer
has their monthly
"Strangest State"
collection, and it stretches as least as far as from Abilene to Texarkana.
And
D Magazine
does
Rick Perry introducing Freedom Gas
.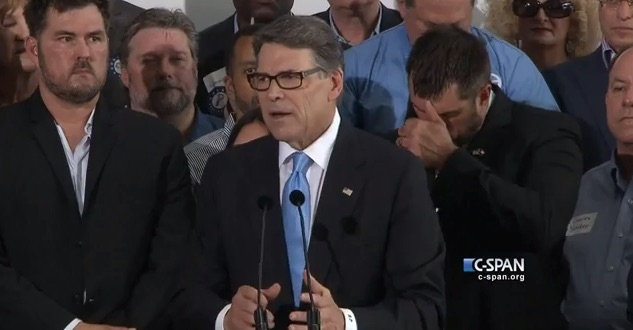 "OK, yes, you're damn right, we're calling it 'freedom gas' now. We should have been doing it all along.
Guess what we are calling oil now?"