"Officials said that the ban was an "attack on workers" in the fossil fuel industry". Seriously. That's their argument.

Oh,

@DNC

, you really are a bunch of corporate a-holes.

Democrats repeal party's ban on fossil fuel donations after two months

https://t.co/lWGD2MEght

— #ThereIsNoPlanetB 🌍 (@RosettaDrone) August 11, 2018
Let's cut to
the chase
.
The strength of the fossil fuel donations ban seemed in question almost immediately after it passed. The DNC refused to announce the resolution, declining to comment to HuffPost for a story that made the vote public.

At the Texas Democratic Party's convention two weeks later (this past June), a state party official opposed a state-level proposal to ban fossil fuel donations and oppose new gas extraction, arguing that the DNC's own resolution was not set in stone.

A.J. Durrani, a retired engineer and manager at the oil giant Shell who recently joined the national party committee, said the DNC did not include the earlier vote in the minutes from its last executive committee meeting.

"There was no mention in it," Durrani said by phone in June. As far as he was concerned, he said, "As of right now, the DNC has not voted."

Durrani did not immediately respond to a request for comment on Friday.

Texas Democrats ultimately voted down their proposed resolution.
A. J. MF'n Durrani.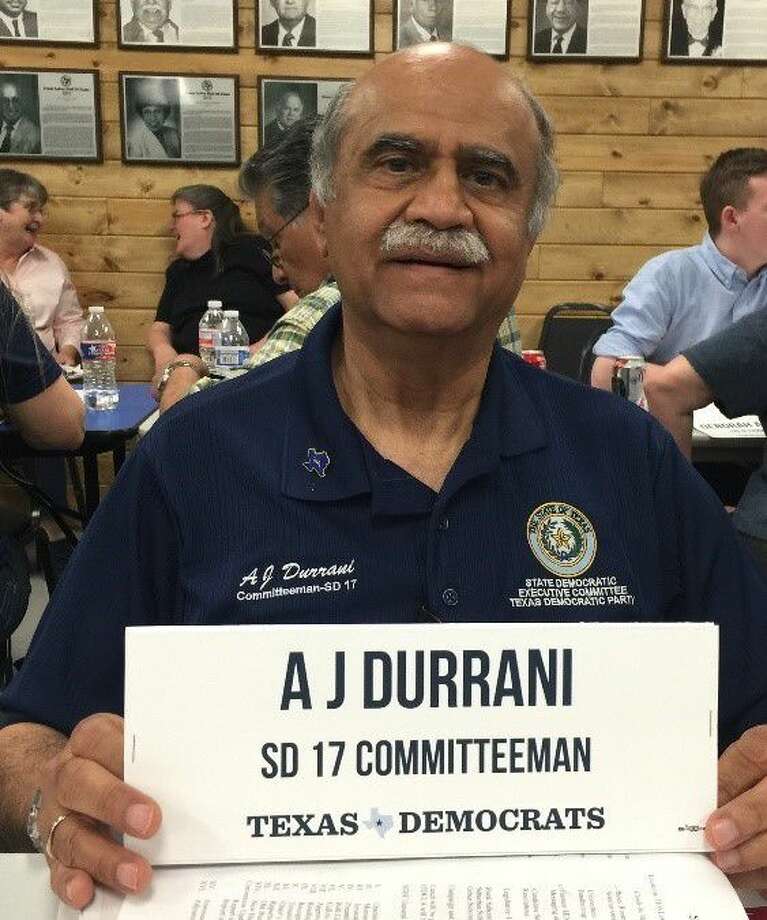 I've known him from my earliest days (2002) as a Democratic Party activist in southwest Houston (though I will wager he doesn't know me, even though we served on some SD-17 committees together). You can read about that activism of his
here
, and his professional life since retiring from Shell
here
.
Oil Patch Democrats
(old link but note the names), SDEC, one of the first members of the
Asian American Democrats
club, then state caucus, and eventually growing that into DNC membership and super delegate status in 2016. Yeah, he's done some shit.
Needless to say, he's no progressive.
He may or may not be the ringleader behind this; Durrani has without a doubt been pulling thick strings behind the scenes. He lives in CD-7, the home of most of Houston's O&G; long been butt buddies in the OPD with James Cargas, and has likely used every method available -- light, dark, and in-between -- to bundle contributions from Shell and other Houston-based oil companies, oil company executives, and the like for Democrats up and down the ballot for the past decade.
Not that it's done them any good, of course. (I'm not counting state representatives Hubert Vo and the Green-hating Gene Wu in the 'good' column, either.)
It's likewise difficult to imagine an old company man, top management, bucking up for the Steelworkers -- the hardhats in the refineries -- here, as Perez has suggested.
The DNC's proposal to lift the ban on accepting donations from fossil fuel companies is premised on the party's support for unions. As of 2017, just 4.4 percent of workers in the mining sector -- including coal, oil and gas -- were union members (via

https://t.co/1Ao6HRNKFk

)

pic.twitter.com/MdQWfp90n7

— Kate Aronoff (@KateAronoff) August 10, 2018
My hunch would be that this came from (among others) higher-ups at the IBEW, which has donated $305K to the DNC this cycle

https://t.co/JI6idJx3q6

— Kate Aronoff (@KateAronoff) August 10, 2018
Obviously if California weren't burning, if there weren't a global heatwave, if the alarm bells weren't sounding as loudly as they ever have about tipping points tipped and 'Hothouse Earth' ... maybe the Jackass Party could have slipped this one by.
But everybody sees you, A. J. Did you work closely with Gilberto Hinojosa on that whole
"helping fund state parties"
part?
We'll wait and see if
"Houston's oldest continuously published"
blogger, himself a Shell employee, has anything to say about this beyond a few tut-tuts -- on his most progressive day -- every time the Donkeys in charge take a shit on everybody on the left. Somebody let me know if he does.
In the meanwhile, I just have one question: if the oil companies and the banks and the drug companies and all the rest of the corporations can buy off both the Republicans AND the Democrats ... then why would they GAF who wins?
More from
Shadowproof
.