This will be a "kind to the Donkeys" post. Seriously.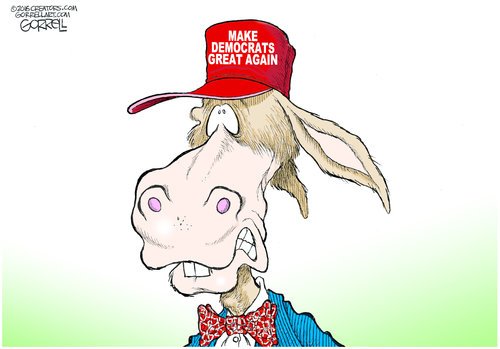 -- Today is special election day in Montana, and things seem to
be breaking nicely
for Rob Quist, the folk singer and political novice bidding to replace Ryan Zinke (
now Interior Secretary
) as the Treasure State's sole Congressman. His Republican opponent body-slammed a reporter for the British newspaper
The Guardian
yesterday. Greg Gianforte was
charged with assault
late last night after the incident. The best account comes from
a Fox News reporter
, among three who witnessed it. Don't be afraid to click on the link.
Gianforte was rejected by the voters just six months ago in his bid to become the Big Sky Country's governor. Montanans elected Democrat Steve Bullock,
barely
, with 50.2% of the same electorate among which Trump carried 56-35 over Hillary Clinton.
Polling
still slightly favors
Gianforte, so this late development may or may not change enough minds; it's all about turnout, as per usual in special elections. Trump has recorded a robocall for Gianforte and the Republican has run hard on President Pussy Grabber's coattails, so today's result will truly be a marker of how far disenchantment with Boss Tweet has come.
No bets made or taken.
Update
:
Quist falls short
, 44-50. I received an email from a Democratic organization on May 24 -- asking for phone calls or a donation -- claiming a poll showed him "as few as two points behind".
-- In Georgia, prospects are similarly brightening for Joel Ossoff, who has opened a
7-point polling lead
on Karen Handel for the right to replace HHS Secretary Tom Price in Congress.
Ossoff and Handel will face off in a June 20 runoff election in Georgia's Sixth Congressional District. Democrats are hopeful they can channel anti-Trump fervor into a win for Ossoff, given that Trump won the ruby-red district by just one point in November.
-- These two potential Congressional flips come on the heels of a
couple of statehouse victories
for the Blues in New England.
(Last) Tuesday, Democrat Edith DesMarais won a New Hampshire House of Representatives seat while Christine Pellegrino, another Democratic candidate, won a New York state assembly seat. Both races took place in districts previously under Republican control that Trump won in November.
More
here
.
-- And Roll Call
sees a shift to the left in 19 US House races
across the country. They mention Pete Sessions' TX-32 -- still 'likely Republican' -- but not John Culberson's TX-7, and call today's Montana election as 'tilting' GOP.
Certainly the cautionary warnings about polling apply in the wake of Clinton's narrow
win
loss for the White House six months ago. I personally distrust polling even more than I did before; not good old Ted at jobsanger, however. You can find a couple of posts just
like this
every single day at his shop. Something considerably less than meaningful and very close to worthless. A few people are never going to get it; this cluelessness almost has a 'teaching pigs to sing' quality about it. Still, it's better than pimping out
fake news
, advanced by the
most ignorant
and
vile of Republicans
, who are forced to
retract, and even then won't stop
.
If you're a Democrat being duped about the Seth Rich murder mystery by the likes of Blake Farenthold, Newt Gingrich, and Sean Hannity, would you
please wake up and smell the coffee
.
That was being nice to Democrats; trust me.