In breaking developments late last evening in the Texas House Speaker's contest, Rep. John Zerwas of Richmond -- probably the most moderate Republican in the unofficial race for the post --
announced his withdrawal
. Forty House Republicans declared their support for Angleton Republican Dennis Bonnen, who had previously told the
Texas Tribune
he wasn't running for the job. There will be more news in the days ahead as Democrats
are huddling today
to determine their course.
And with that as an opener, the Texas Progressive Alliance wants you to be sure to encourage your like-minded friends to get to the polls this week since we know you've already voted yourself.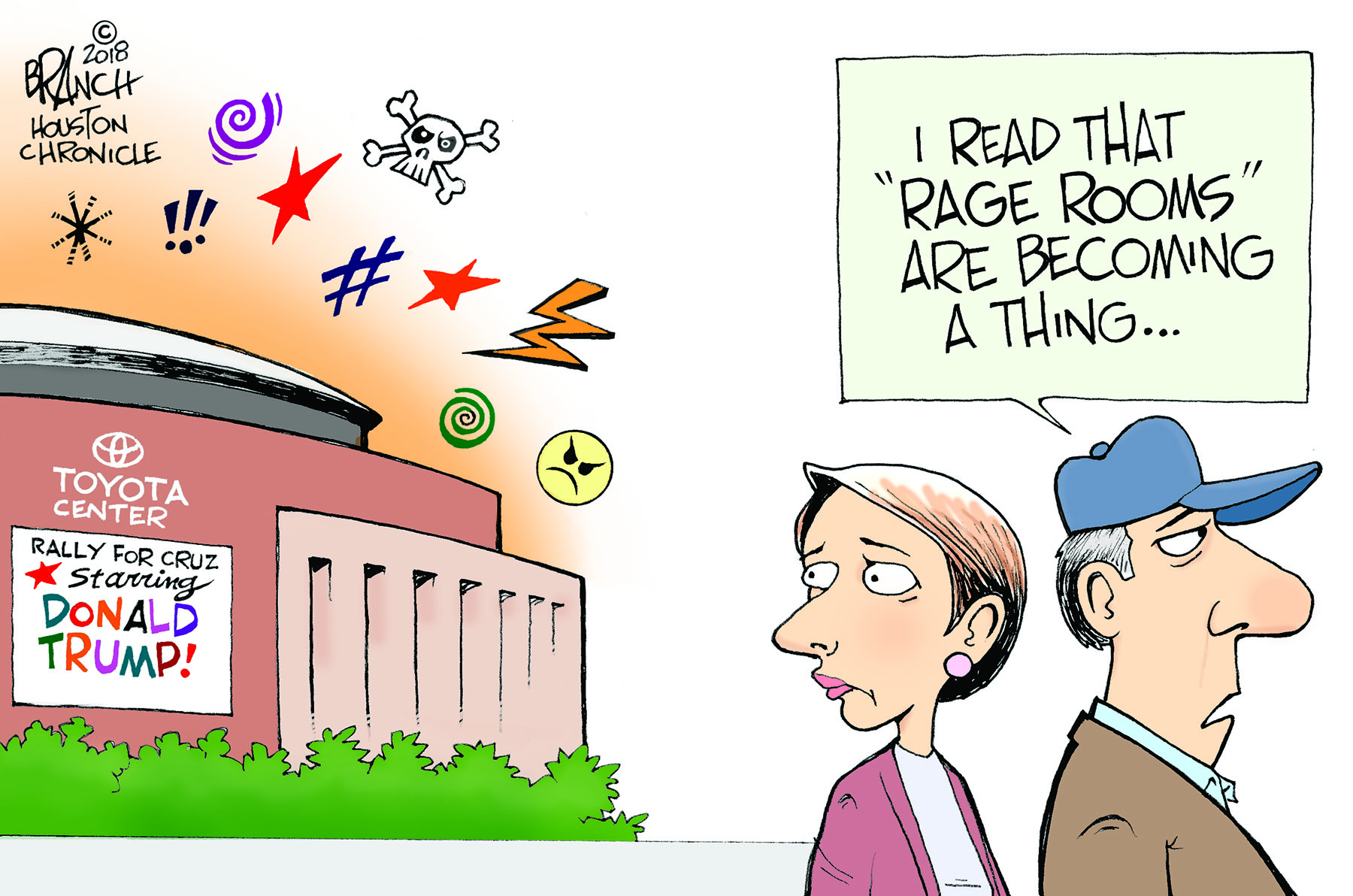 Ahead of the midterms,
NPR
notices that our indicted felon/state attorney general Ken Paxton gets busy
chasing ghosts
ramping up efforts
to "combat voter fraud" (sic).
Voting experts say actual instances of fraudulent ballots knowingly cast are extremely rare, leading to accusations that the effort is intended to intimidate voters.

"I think it's all politically motivated," said Greg Westfall, a Texas lawyer currently representing a Hispanic woman who was charged this month with voter fraud. "If you look at the timing, that's what's breathtaking."

[...]

"The fact that there is this concerted effort in Texas to prosecute these cases to the full extent – particularly against people of color – is supremely troublesome," (Beth Stevens of the Texas Civil Rights Project) said. "And then we know what happens in Texas goes to the rest of the country as a model."

Zenén Jaimes Pérez, the communications director for the TxCRP, said the attorney general's own numbers show that his office was tackling an issue that wasn't a growing problem, as shown by the small number of cases in the many years before the crackdown.

"They have prosecuted an average of around 30 election violations since 2004," Pérez said in an email. "To be sure, the AG started the Election Integrity Initiative in without evidence of increasing elections violations," Pérez said.
Beto O'Rourke's plan to
maximize the African American vote in H-Town
hit high gear over the weekend, with
Say Something
appearances by musical artists at EV locations around town, the
Souls to the Polls rallies
,
and other efforts accounted
by Justin Miller at the
Texas Observer
.
— Patrick Svitek (@PatrickSvitek) October 28, 2018
Even as another 'Beto as Superman' mural was unveiled in Houston ...
— Antonio (@AntonioArellano) October 28, 2018
... the first, in East Austin and mentioned in this
'scattershot' post
from
Brains and Eggs
, was
defaced
by MAGA vandals shortly after it debuted.
Rogers's mural has been defaced phrases like "El Paso gentrifier supports Israel" and "No hero" spray-painted onto the artwork in red and white.
Socratic Gadfly
does some number-crunching on the early voting surge
and offers a quick hot take
on what it might mean for the Cruz-O'Rourke Senate race.
Progrexas
carries the piece from the TexTrib about how the statewide judicial candidates will win or lose
solely on the basis of their party affiliation.
If anyone is poised to spoil (yet another GOP) sweep, it's R.K. Sandill, a long-serving Democratic district judge in Harris County who's consistently outraised his opponent, Justice John Devine. In addition to an impressive cash-on-hand tally, an endorsement from the Houston Chronicle and victories in the Houston Bar Association and Texas Bar Association polls, Sandill faces perhaps the most controversial incumbent on the high court. Before being elected to the high court in 2012, Devine was sued for displaying the Ten Commandments in his courtroom. Devine has also boasted publicly that he was arrested 37 times protesting outside abortion clinics.
See also
this post
at
Brains and Eggs
for the
'vulnerable, least discussed'
Republican -- Presiding Judge Sharon "Killer" Keller of the Texas Court of Criminal Appeals -- if the blue wave crests high enough on November 6.
Rewire
writes about how a federal court in Texas --
Judge Reed O'Connor's in the Northern District
-- will shape the legal fight under way over transgender rights.
Brandon Formby at the
Texas Tribune
describes the
collision of rural and urban values
as the high speed rail line between Houston and Dallas continues to move ahead.
Think Progress
has details on far-right activists and
militia groups headed to the southern border
to stop the caravan of Honduran migrants (that are still a thousand miles away).
Earlier (last) week, the U.S. Border Patrol warned landowners in Texas that they could expect "possible armed civilians" on their property because of the news about the caravan. The exact details of when and where the militia would deploy are unclear, but one militia leader told the Associated Press that they would have upwards of 100 members guarding the Mexico-Texas border.
David Collins
added some thoughts to Nick Cooper's (he's the drummer for local band Free Radicals) about
the border wall
.
Stace at
Dos Centavos
reflected on his weekend of politics
y cultura
.
The
TSTA Blog
resorts to begging teachers to support public education at the ballot box.
Texas Standard
updates the story of the city of Houston's legal tussle with Southwest Key, the operators of a proposed child detention facility on the northeast side, in reporting that the city has
rejected a settlement offer
from the company.
A political sign opposing Prop 2 -- the Houston firefighters' pay parity proposal --
was tastelessly posted
at the vacant site where five died and thirteen were injured fighting a terrible motel fire just a few years ago.
Fox26
's Greg Groogan
captured the reactions
of HFD union head Marty Lancton and Mayor Sylvester Turner.
"I don't know how you walk up here and see five flags flying, the thin red line and the 13 that were injured and not understand that this is not the place to show your disdain and your vindictiveness toward Houston Firefighters," said Lancton.

[...]

At City Hall, Mayor Sylvester Turner, who is bankrolling the PAC and leading the fight against pay parity, stopped short of an apology.

"I don't know who put it there. I'm just saying whoever put it there, it's important to be respectful and not just of places, but family members as well," said Turner.
Stephen Willeford, the
Sutherland Springs "good guy with a gun"
, is profiled by Michael J. Mooney in
Texas Monthly
.
Dallas City Hall has
stonewalled a pair of open records requests
by
Downwinders at Risk
regarding a mysterious clean air fund and a Joppa polluter.
Jim Schutze at the
Dallas Observer
thinks it's great that
a rec center was renamed
for Santos Rodriguez, the boy who was killed by a Dallas policeman in 1973 (
updated by the Militant
in this
Wrangle from August
).
Sanford Nowlin at the
San Antonio Current
reminds us that some Christians do support
progressive
liberal ideas and politics.
CultureMap Houston
describes how 'Old Spanish Trail', aka old Highway 90 connecting El Paso, San Antonio, and Houston and built over hundred years ago missed its intended history ... but created a new one that's now old enough for us to celebrate all its own,
particularly in the Alamo City
.
Grits
came to Houston and
took in
a Contemporary Arts Museum collaboration by artists about the justice system (highly recommended).
Both
CNBC
and
The Verge
covered the news about the Sam's Club in Dallas which will be a cashier-less operation, similar to the five (
so far
) Amazon Go stores in Seattle and Chicago.
And
Harry Hamid
went out for a bottle of wine at midnight, took in the 'Trose scene, and got ready to tell another story.