The Texas Progressive Alliance can't wait to see what tricks and treats Robert Mueller has in his bag as it brings you this week's roundup. Early birds are watching
Paul Manafort surrender
this morning.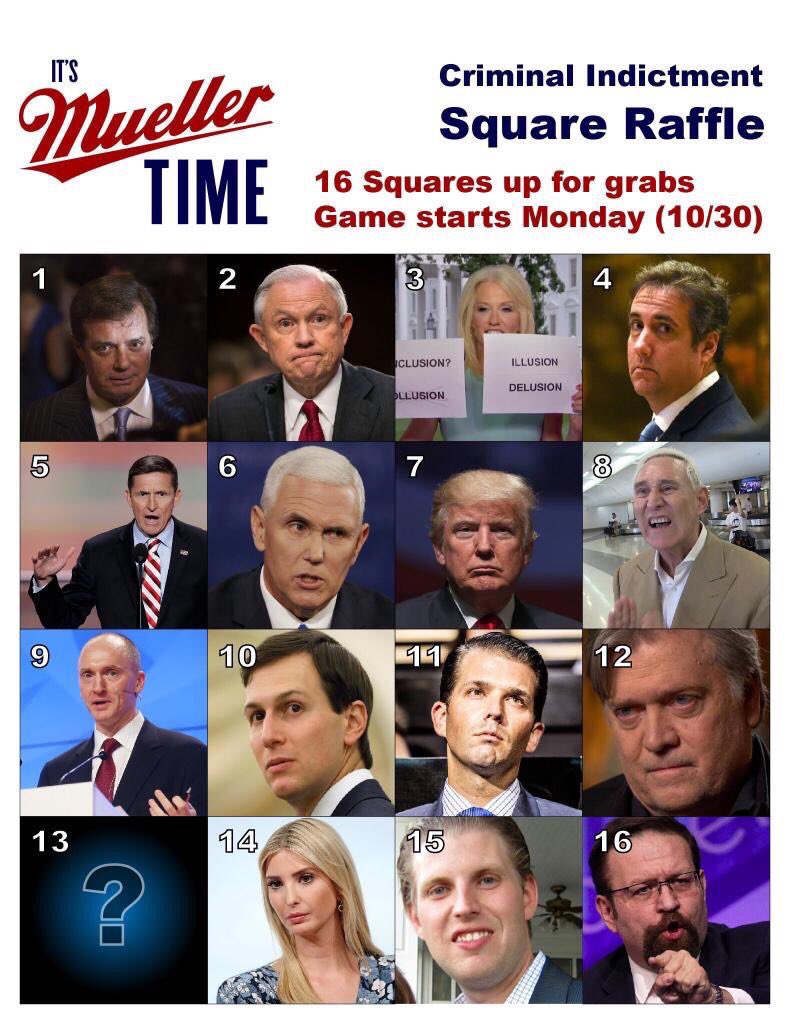 Off the Kuff
looks at
the latest UT/Texas Tribune poll
and wishes the pollsters had a bit more vision.
Socratic Gadfly
first offered his take on
the Joe Straus retirement announcement
and then excoriated the inside-the-Mopac media gaggle for its use of the phrase "
moderate Republican
."
The PDid slate
-- recommendations in the ongoing election for Texas constitutional amendments, Houston municipal bonds, and HCC and HISD candidates -- is posted at
Brains and Eggs
. Stace at
Dos Centavos
also has some advice for Houston and Harris County voters.
In profiling 2018 Texas progressive candidates
Lillian Salerno (TX-32), Tom Wakely (Governor), Derrick Crowe (TX-21), and Dayna Steele (Tx-36)
,
Down With Tyranny!
merits inclusion in our Wrangle this week.
The
Lewisville Texan Journal
, returning to its digital roots, rolled its final print edition last week.
Texas frackquakes are getting mapped now, according to
Texas Vox
.
The
Texas Moratorium Network
has
photos
and
video
from the March to Abolish the Death Penalty last Saturday, at the Capitol.
jobsanger
would like to remind you that Lee Harvey Oswald acted alone.
In another crude, racially insensitive display, Agriculture Commissioner Sid Miller
shares a suicide joke on social media
. Sid Miller IS the joke, folks.
— Bobby Blanchard 🌈 (@bobbycblanchard) October 29, 2017
Houstonia
has some suggestions for where you can celebrate Día de los Muertos.
Neil at
All People Have Value
reviewed the post-hurricane Harvey public art work
in Houston called "Toxic Pile of Dirt." APHV is part of
NeilAquino.com
.
====================
In more state news and lefty blog posts, Houston sports teams made news for all the
right reasons
and a few
wrong
ones
over the weekend.
Something
yuuuuge
was missing from Rev, Franklin Graham's revival in Waco, and David Brockman at the
Texas Observer
took notice.
An undocumented teenager held in federal custody in Brownsville was
finally able to exercise her reproductive choice
after a month-long court battle. Doyin Oyeniyi at
Texas Monthly
provides the account.
The
Rivard Report
bemoans how unsafe San Antonio is for pedestrians.
Writing for the
Houston Chronicle
,
Dr. Jennifer McQuade
of MD Anderson wants to know where our government is in Puerto Rico. And in '
Techburger
', his new blog for the Chronicle,
Dwight Silverman
gives four reasons why Amazon Key is a bad idea.
Space City Weather
examines the Harris County proposals for flood mitigation.
Wes Ferguson
at the
Daily Post
sees fewer Texas high schoolers interested in playing football.
Aaron West
at
Free Press Houston
has more on the history of the three skinheads arrested in Florida for firing a gun at protestors of the Richard Spencer rally.
Shannon Watts
, the founder of Moms Demand Action for Gun Sense in America, eulogizes Catherine Vance, a 40-year-old gun safety advocate from Houston who passed away a few days ago.
And
Harry Hamid
has a few night anthems of a ghoul.