(This is part three of the Resistance versus the Revolution. Part one, about the candidates for governor,
is here
. Part two, regarding the US Senate candidates,
is here
.)
From l to r: Westin, Pannill Fletcher, Triantaphyllis, Moser, Sanchez, Butler, Cargas.
I had hoped to get this posted earlier, but today's "wintry mix" day in Southeast Texas enables me to catch up with last night's CD-7 candidate forum in Bellaire (video from last night
is here
). As blogged previously,
my top two
in this race -- neither, to be clear, fully meets my definition of 'progressive' -- are Jason Westin and Laura Moser. At the 1:12:53 mark on the video, a viewer indicates that a Moser supporter in the audience made a remark that some in the comments at that link are inferring to be racist. I am unable to hear the audio, so listen for yourself and tell me what you think in my comment section here.
Update
: upon clarification, the comment isn't on the videotape but on the Facebook page itself, but it still is not visible to me for whatever reason. I am told that it has something to do with Ivan Sanchez and ESL classes, so yes, that would indeed be entirely out of line.
My deafness also makes Kuffner's interviews with the candidates last week useless to me, unfortunately, so if someone wants to give those an ear and give me their opinion that's not of the cheerleading variety, feel free. I would be particularly interested in stances on single payer, the environment, and anything else that might meet the definition of progressive (or not, for that matter).
As I have
repeatedly blogged
, James Cargas has indicated in his past three defeats to John Culberson that he supports fracking. And unless he's moved recently, he still lives outside of District 7. So with everything else I have discovered to be odious about him aside, he's not worth
anybody's
vote, much less mine. Some Democrats being the dumbest of asses, he appears to be holding a base of support.
Joshua Butler and Ivan Sanchez are engaging young men with a few progressive bonafides. As the only two people of color in the contest, they should get a good share of the primary vote. Good on him if one emerges to square off against Cargas; my vote will be easy.
Also as I have written, by process of elimination I've excluded Alex T and Lizzie Pannill Fletcher for raising metric shit-tons of money, early and often. These simply aren't the kind of Democrats that will show up, if elected, as supporting people who need Medicaid, much less Medicare for All, and their vague platforms indicate to me they won't be advocates of anything approaching universal single payer. With the Texas Medical Center bordering the district and so many physicians as potential constituents, it's a certainty that caucus has weighed in with their checkbooks on T's and Pannill Fletcher's campaigns.
The same likely holds true of Westin and Moser, but at least their language suggests they're more amenable to healthcare reform that favors people over profits (Westin certainly).
I'll get to find out more about how they stand on the environment at the end of this month.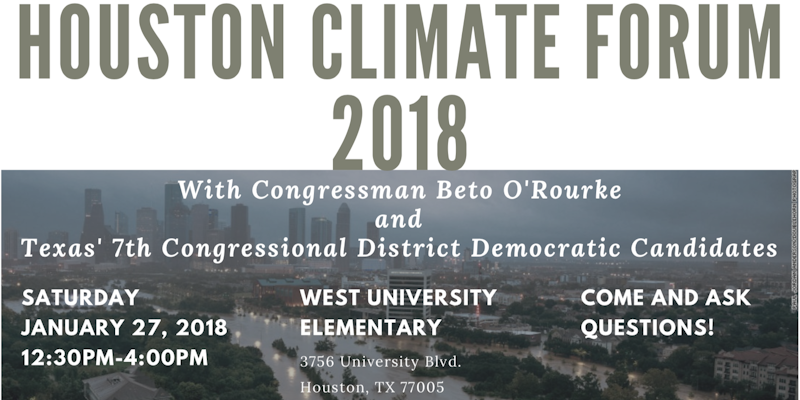 This forum should have invited Sema Hernandez to participate, but word comes to me that they have
declined to do so
(one of the sponsors is giving "Bob" an award).
Please join us at the Houston Climate Forum 2018 with Rep. Beto O'Rourke and Texas' 7th District Congressional candidates: Joshua Butler, James Cargas, Lizzie Pannill Fletcher, Laura Moser, Ivan Sanchez, Alex Triantaphyllis, and Jason Westin, M.D.

Saturday, January 27, 2018 -12:30pm-4pm

West University Elementary School, 3756 University Blvd. Houston, 77005. Parking available around school and neighborhood. Front doors to the school will be locked, as entrance to the forum will be in the back, via Edloe/Goode St.

Learn Congressional candidate positions related to climate, energy, and environmental issues and solutions, nationally and locally, in an open forum. Bring your questions!

Your hosts: 350.org-Houston, Pantsuit Republic-Houston Climate and Environmental Racism Committee (CERC), Indivisible TX7-Houston, and Texans For Climate Change Action, will facilitate the open forum. The forum will be moderated by Daniel Cohan, Associate Professor of Environmental Engineering at Rice University.

Tickets are free but limited; register here.
The statewide candidates scheduled to appear in Houston tonight as part of the county party's Johnson-Rayburn-Richards dinner kickoff has been
postponed
.